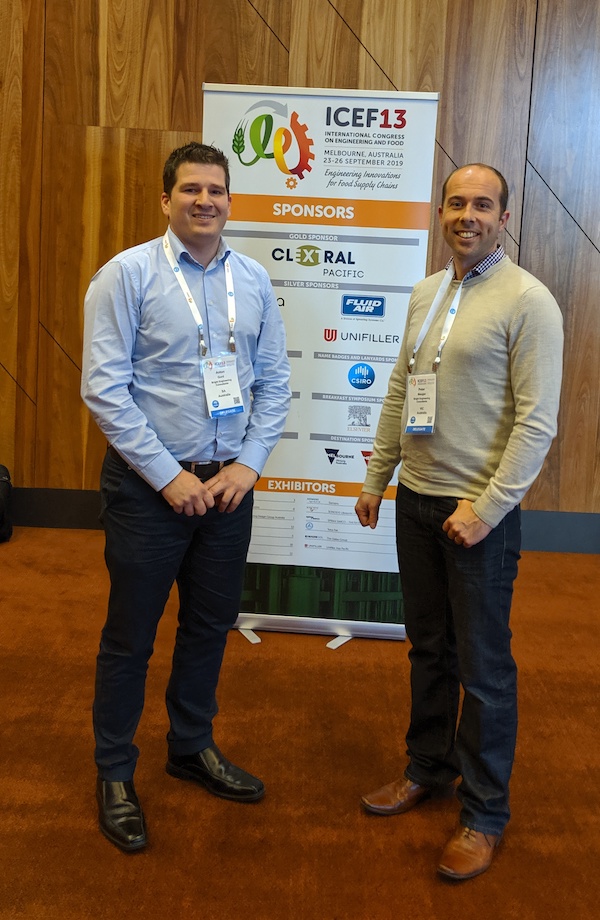 International Congress on Food (ICEF13) - Keeping up with technology
---
---
Peter and Anton attended the International Congress on Engineering and Food in Melbourne in September 2019. This conference showcases the pinnacle of modern technology and research and is held every four years in countries around the world. Attending events like this is important to Bright, as it keeps us up to date with the latest in current and future technologies, as well as giving us a chance to speak with other professionals leading their areas of speciality.
We attended a number of presentations on energy efficiency, increasing processing capability, implementing industry 4.0, and emerging technologies utilising high frequency electrical inputs, microwaves and plasma.
We also attended sessions and saw producing using sustainable materials and packaging.
Many of the sessions across the congress touched on common themes of equipment and processes that are being developed to optimise fresh food lifespan.
We came away with better knowledge of available technologies and their applications and limitations as well as some good contacts to expand our network.
If you need assistance in any of the areas above, please contact us now.
{"authenticity_token":"OeaM96kl0Yxyx7Jn3qpf0X40VVzcJx4MuFsW3r6tQ5qbDLwUPYXJ45+MAAfp/zCvA/z4PNMOoosardj+3gJyJg==","session":{"language":"en","_csrf_token":"kSB27/a8OIfXc8z+uiX1mv/UOGHGI3e+aMpKrSRqszA=","session_id":"5dd493db64d544de6c98bdcf4bae5acb"},"csrf_request_valid":true,"current_user":null,"headers":{"QUERY_STRING":"","REQUEST_METHOD":"GET","REQUEST_URI":"/news/international-congress-on-food-icef13-keeping-up-with-technology","HTTP_HOST":"www.bright.com.au","HTTP_USER_AGENT":"CCBot/2.0 (https://commoncrawl.org/faq/)","HTTP_ACCEPT_ENCODING":"br,gzip","HTTP_ACCEPT_LANGUAGE":"en-US,en;q=0.5","HTTP_IF_MODIFIED_SINCE":"Mon, 20 Sep 2021 11:47:02 GMT","HTTP_X_AMZN_TRACE_ID":"Root=1-61f308f8-7f8415f218b2c7c91b1dedc2","HTTP_X_FORWARDED_FOR":"10.120.8.7","HTTP_X_FORWARDED_HOST":"www.bright.com.au","HTTP_X_FORWARDED_PORT":"80","HTTP_X_FORWARDED_PROTO":"https","HTTP_X_FORWARDED_SERVER":"traefik-54b894f58c-x6f4f","HTTP_X_REAL_IP":"10.120.8.7","SERVER_NAME":"www.bright.com.au","SERVER_PORT":"443","PATH_INFO":"/news/international-congress-on-food-icef13-keeping-up-with-technology","skylight.request_id":"53948a64-6edd-4f2f-873c-db02296afe6d"},"params":{"slug":"news","slug2":"international-congress-on-food-icef13-keeping-up-with-technology","format":"html"},"language":"en","environment":"production","is_xhr":false,"instance":{"id":49,"uuid":"3f730085-5509-4be7-99c9-6a716c75bb6a","name":"bright"},"location":{"url":"https://www.bright.com.au/news/international-congress-on-food-icef13-keeping-up-with-technology","href":"/news/international-congress-on-food-icef13-keeping-up-with-technology","host":"www.bright.com.au","pathname":"/news/international-congress-on-food-icef13-keeping-up-with-technology","search":{}},"page":{"id":4222,"slug":"news","enable_profiler":false,"layout":"templates/6","layout_name":"templates/6","metadata":null},"layout":{"metadata":{"id":6,"name":"News Template","type":"page","file_type":"template","last_edit":1574158981709,"is_default":false,"use_design_system":true}},"visitor":{"ip":"10.120.8.7"},"useragent":"CCBot/2.0 (https://commoncrawl.org/faq/)","device":{"bot":true,"bot_name":"ccBot crawler","device_brand":null,"device_name":null,"device_type":null,"full_version":null,"known":false,"name":null,"os_full_version":null,"os_name":null},"cookies":{},"version":"3f199feecbf45a15a2f1421ebcefe893f8b83e14-1642498269548","post_params":"","hcaptcha_site_key":"ce2a4f04-a5cf-4da6-bd8a-da2e74c8913a","modules":{"siteglide_menu":{"name":"siteglide_menu","scope_name":"siteglide_menu","version_info":{},"subscription_info":{}},"siteglide_system":{"name":"siteglide_system","scope_name":"siteglide_system","version_info":{},"subscription_info":{}},"siteglide_authors":{"name":"siteglide_authors","scope_name":"siteglide_authors","version_info":{},"subscription_info":{}},"siteglide_design_system":{"name":"siteglide_design_system","scope_name":"siteglide_design_system","version_info":{},"subscription_info":{}},"siteglide_media_downloads":{"name":"siteglide_media_downloads","scope_name":"siteglide_media_downloads","version_info":{},"subscription_info":{}},"siteglide_blog":{"name":"siteglide_blog","scope_name":"siteglide_blog","version_info":{},"subscription_info":{}}},"constants":"[FILTERED]","flash":{},"exports":{"categories":{"path":{"/home-category":"12865"},"items":{"12865":{"id":"12865","external_id":"2aae91cd-1581-4ebc-94d2-b911f25141bb","name":"Home Category","enabled":"true","parent":null,"slug":"home-category","full_slug":"/home-category","image":null,"image_alt":null,"description":null,"meta_title":null,"meta_desc":null,"og_title":null,"og_desc":null,"og_type":null,"twitter_type":null}},"data":{"12865":{"id":"12865","external_id":"2aae91cd-1581-4ebc-94d2-b911f25141bb","name":"Home Category","enabled":"true","parent":null,"slug":"home-category","full_slug":"/home-category","image":null,"image_alt":null,"description":null,"meta_title":null,"meta_desc":null,"og_title":null,"og_desc":null,"og_type":null,"twitter_type":null}}},"company_information":{"properties":{"logo":"images/logo.png","logo_white":"images/footer-logo.png","vat_number":null,"company_name":"Bright Engineering Consultants","phone_number":null,"email_address":null,"address_line_1":null,"address_line_2":null,"footer_template":"2","header_template":"1","twitter_account":null,"facebook_account":null,"linkedin_account":null,"instagram_account":null,"active_campaign_id":null,"google_analytics_id":null,"google_plus_account":null,"google_analytics_view_id":null,"google_analytics_site_verification":null}},"integrations":{"properties":{"recaptcha_site_key":"6Lfivr8UAAAAABEfXZB8ead9DZhvum9xl1kRtIWo","recaptcha_secret_key":"6Lfivr8UAAAAAJJr4_N27LTVBd-ebgv3XP03zwyU"}},"user_crm_fc":{"data":{"id":"9670","name":"user","fields":{"properties":{"address":{"name":"Address","type":"input_text","live":true,"hidden":true,"order":0,"editable":true,"required":false,"validation":{}},"company":{"name":"Company","type":"datasource_multi","live":true,"hidden":true,"order":0,"editable":true,"datasource_id":"company","required":false,"validation":{}},"starred_items":{"name":"starred_items","type":"datasource_multi","live":true,"hidden":true,"order":0,"editable":true,"datasource_id":"starred_items","required":false,"validation":{}},"tag_array":{"name":"Tags","type":"datasource_multi","live":true,"hidden":true,"order":0,"editable":true,"datasource_id":"tag","required":false,"validation":{}}}}}},"is_logged_in":{"data":false},"current_user":null,"currency_map":{"data":{"AUD":"$","CAD":"$","EUR":"€","GBP":"£","NZD":"$","USD":"$"}},"siteglide_constants_loaded":{"true":true},"category_array":{"data":[]},"properties":{"data":[{"name":"enabled","value":"true"},{"name":"release_date","range":{"lt":"1643317496"}},{"name":"expiry_date","range":{"gt":"1643317496"}},{"name":"slug","value":"international-congress-on-food-icef13-keeping-up-with-technology"}]},"properties_records":{"data":[{"name":"enabled","value":"true"},{"name":"release_date","range":{"lt":"1643317496"}},{"name":"expiry_date","range":{"gt":"1643317496"}},{"name":"slug","value":"international-congress-on-food-icef13-keeping-up-with-technology"}]},"webapp_5":{"data":{"result":{"total_entries":1,"items":[{"id":"13197","name":"International Congress on Food (ICEF13) - Keeping up with technology","properties":{"name":"International Congress on Food (ICEF13) - Keeping up with technology","slug":"international-congress-on-food-icef13-keeping-up-with-technology","enabled":true,"og_desc":null,"og_type":null,"og_title":null,"meta_desc":"Peter and Anton attended the International Congress on Engineering and Food in Melbourne in September 2019.","weighting":20190923,"meta_title":null,"expiry_date":2145916800,"release_date":1569215099,"twitter_type":null,"category_array":[],"webapp_field_5_2":"

Peter and Anton attended the International Congress on Engineering and Food in Melbourne in September 2019. This conference showcases the pinnacle of modern technology and research and is held every four years in countries around the world. Attending events like this is important to Bright, as it keeps us up to date with the latest in current and future technologies, as well as giving us a chance to speak with other professionals leading their areas of speciality.\n

\n\n

We attended a number of presentations on energy efficiency, increasing processing capability, implementing industry 4.0, and emerging technologies utilising high frequency electrical inputs, microwaves and plasma.\n

\n

We also attended sessions and saw producing using sustainable materials and packaging.\n

\n

Many of the sessions across the congress touched on common themes of equipment and processes that are being developed to optimise fresh food lifespan.\n

\n

We came away with better knowledge of available technologies and their applications and limitations as well as some good contacts to expand our network.\n

","webapp_field_5_3":"Peter Mauger","webapp_field_5_4":"images/news/InternationalFoodConference2019.jpg","webapp_field_5_5":"","webapp_field_5_6":"","webapp_field_5_7":"https://www.bright.com.au/team/peter-mauger","webapp_field_5_9":["Full Centre"],"webapp_name":"News","webapp_slug":"news","webapp_detail":true,"webapp_detail_template":null,"webapp_detail_default_layout":"default"},"model":"webapp_5","create_date":"1572926837","last_edit_date":"1619038837","creator":null,"webapp_name":"News","webapp_slug":"news","webapp_detail":true,"webapp_detail_template":null,"webapp_detail_default_layout":"default","slug":"international-congress-on-food-icef13-keeping-up-with-technology","weighting":20190923,"release_date":1569215099,"expiry_date":2145916800,"enabled":true,"category_array":[],"meta_title":null,"meta_desc":"Peter and Anton attended the International Congress on Engineering and Food in Melbourne in September 2019.","og_title":null,"og_desc":null,"og_type":null,"twitter_type":null,"Content":"

Peter and Anton attended the International Congress on Engineering and Food in Melbourne in September 2019. This conference showcases the pinnacle of modern technology and research and is held every four years in countries around the world. Attending events like this is important to Bright, as it keeps us up to date with the latest in current and future technologies, as well as giving us a chance to speak with other professionals leading their areas of speciality.\n

\n\n

We attended a number of presentations on energy efficiency, increasing processing capability, implementing industry 4.0, and emerging technologies utilising high frequency electrical inputs, microwaves and plasma.\n

\n

We also attended sessions and saw producing using sustainable materials and packaging.\n

\n

Many of the sessions across the congress touched on common themes of equipment and processes that are being developed to optimise fresh food lifespan.\n

\n

We came away with better knowledge of available technologies and their applications and limitations as well as some good contacts to expand our network.\n

","Author":"Peter Mauger","Image 1":"images/news/InternationalFoodConference2019.jpg","Image 2":"","Image 3":"","Author link":"https://www.bright.com.au/team/peter-mauger","Image Position":["Full Centre"],"webapp_id":"5","full_slug":"/news/international-congress-on-food-icef13-keeping-up-with-technology"}]}}}}}