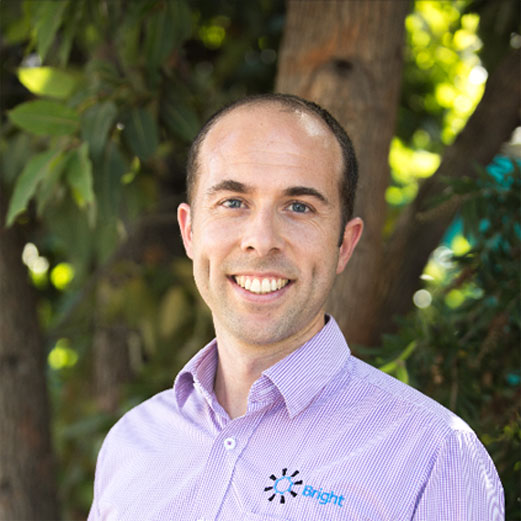 Peter Mauger
Principal Process Engineer
As the founding director of Bright, Peter's 15 years of food, beverage and pharmaceutical experience have defined the company's direction in these fields. He has both depth and breadth of experience in many sections of the industry gained through 7 years as an internal engineer and 8 years in consulting.
Peter completed a Chemical Engineering degree with honours at Monash University, as well as a Science degree majoring in Physics and Mathematics. He has also completed a post-graduate degree in Brewing through the Institute of Brewing and Distilling in London. He is a Chartered Professional Engineer (CPEng), and a Registered Professional Engineer in Queensland (RPEQ).
He has a strong drive and passion for improving the way businesses operate through a combination of sound theory and practical experience. His personal approach, and ability to develop relationships helps deliver projects that are beneficial to his clients as well as suit the character they are striving to achieve.
Peter has been an Olympic torchbearer and a runner-up for the Young Australian of the Year award. He has guided many other engineers toward achieving chartered status and continues to develop his teams through both technical and practical experience. Multiple projects he has worked on have been nominated for internal company awards. He has actively engaged with Engineers Australia, delivering technical presentations and plant tours locally, and is a member of the Chemical College Board for his 3rd consecutive 2-year term.
Phone:
(03) 8400 4481
Email:

If you need assistance in any of the areas above, please contact us now.
{"authenticity_token":"60j2Obax3iFxagiT+rbVfLR6zYx8HZ7R+yEGU/tMnIxwhW8qpS0oQCZ1iitP6kkn2NhsX3cj7Z1XrGM+O9wIEg==","session":{"language":"en","_csrf_token":"X+zdXElcB5K3BGmK6Je6dAD6ej8ZSHxkVu36oFgQEto=","session_id":"f6529b2777fb9fd55ccf9746fe4c2d12"},"csrf_request_valid":true,"current_user":null,"headers":{"QUERY_STRING":"","REQUEST_METHOD":"GET","REQUEST_URI":"/team/peter-mauger","HTTP_HOST":"www.bright.com.au","HTTP_USER_AGENT":"CCBot/2.0 (https://commoncrawl.org/faq/)","HTTP_ACCEPT_ENCODING":"br,gzip","HTTP_ACCEPT_LANGUAGE":"en-US,en;q=0.5","HTTP_IF_MODIFIED_SINCE":"Thu, 27 Jan 2022 19:53:23 GMT","HTTP_X_AMZN_TRACE_ID":"Root=1-62f5b77a-37375e3b66d5a1c576fce669","HTTP_X_FORWARDED_FOR":"10.120.13.2","HTTP_X_FORWARDED_HOST":"www.bright.com.au","HTTP_X_FORWARDED_PORT":"80","HTTP_X_FORWARDED_PROTO":"https","HTTP_X_FORWARDED_SERVER":"traefik-54b894f58c-cmpq6","HTTP_X_REAL_IP":"10.120.13.2","SERVER_NAME":"www.bright.com.au","SERVER_PORT":"443","PATH_INFO":"/team/peter-mauger","skylight.request_id":"5d2136ef-493c-4fba-96ed-556838c36407"},"params":{"slug":"team","slug2":"peter-mauger","format":"html"},"language":"en","environment":"production","is_xhr":false,"instance":{"id":49,"uuid":"3f730085-5509-4be7-99c9-6a716c75bb6a","name":"bright"},"location":{"url":"https://www.bright.com.au/team/peter-mauger","href":"/team/peter-mauger","host":"www.bright.com.au","pathname":"/team/peter-mauger","search":{}},"page":{"id":1909,"slug":"team","enable_profiler":false,"layout":"templates/5","layout_name":"templates/5","metadata":null},"layout":{"metadata":{"id":5,"name":"Staff Template","type":"page","file_type":"template","last_edit":1645607976808,"is_default":false,"use_studio_bs5":false,"use_design_system":false}},"visitor":{"ip":"10.120.13.2"},"useragent":"CCBot/2.0 (https://commoncrawl.org/faq/)","device":{"bot":true,"bot_name":"ccBot crawler","device_brand":null,"device_name":null,"device_type":null,"full_version":null,"known":false,"name":null,"os_full_version":null,"os_name":null},"cookies":{},"version":"ef9ddd545869d1f17a64cffd600be77e2bd6a7f0-1660116858235","post_params":"","hcaptcha_site_key":"ce2a4f04-a5cf-4da6-bd8a-da2e74c8913a","modules":{"siteglide_menu":{"name":"siteglide_menu","scope_name":"siteglide_menu","version_info":{},"subscription_info":{}},"siteglide_system":{"name":"siteglide_system","scope_name":"siteglide_system","version_info":{},"subscription_info":{}},"siteglide_authors":{"name":"siteglide_authors","scope_name":"siteglide_authors","version_info":{},"subscription_info":{}},"siteglide_design_system":{"name":"siteglide_design_system","scope_name":"siteglide_design_system","version_info":{},"subscription_info":{}},"siteglide_media_downloads":{"name":"siteglide_media_downloads","scope_name":"siteglide_media_downloads","version_info":{},"subscription_info":{}},"siteglide_blog":{"name":"siteglide_blog","scope_name":"siteglide_blog","version_info":{},"subscription_info":{}}},"constants":"[FILTERED]","flash":{},"exports":{"categories":{"path":{"/home-category":"12865"},"items":{"12865":{"id":"12865","external_id":"2aae91cd-1581-4ebc-94d2-b911f25141bb","name":"Home Category","enabled":"true","parent":null,"slug":"home-category","full_slug":"/home-category","image":null,"image_alt":null,"description":null,"meta_title":null,"meta_desc":null,"og_title":null,"og_desc":null,"og_type":null,"twitter_type":null}},"data":{"12865":{"id":"12865","external_id":"2aae91cd-1581-4ebc-94d2-b911f25141bb","name":"Home Category","enabled":"true","parent":null,"slug":"home-category","full_slug":"/home-category","image":null,"image_alt":null,"description":null,"meta_title":null,"meta_desc":null,"og_title":null,"og_desc":null,"og_type":null,"twitter_type":null}}},"company_information":{"properties":{"logo":"images/logo.png","logo_white":"images/footer-logo.png","vat_number":null,"company_name":"Bright Engineering Consultants","phone_number":null,"email_address":null,"address_line_1":null,"address_line_2":null,"footer_template":"2","header_template":"1","twitter_account":null,"facebook_account":null,"linkedin_account":null,"instagram_account":null,"active_campaign_id":null,"google_analytics_id":null,"google_plus_account":null,"google_analytics_view_id":null,"google_analytics_site_verification":null}},"integrations":{"properties":{"recaptcha_site_key":"6Lfivr8UAAAAABEfXZB8ead9DZhvum9xl1kRtIWo","recaptcha_secret_key":"6Lfivr8UAAAAAJJr4_N27LTVBd-ebgv3XP03zwyU"}},"user_crm_fc":{"data":{"id":"9670","name":"user","fields":{"properties":{"address":{"name":"Address","type":"input_text","live":true,"hidden":true,"order":0,"editable":true,"required":false,"validation":{}},"company":{"name":"Company","type":"datasource_multi","live":true,"hidden":true,"order":0,"editable":true,"datasource_id":"company","required":false,"validation":{}},"starred_items":{"name":"starred_items","type":"datasource_multi","live":true,"hidden":true,"order":0,"editable":true,"datasource_id":"starred_items","required":false,"validation":{}},"tag_array":{"name":"Tags","type":"datasource_multi","live":true,"hidden":true,"order":0,"editable":true,"datasource_id":"tag","required":false,"validation":{}}}}}},"is_logged_in":{"data":false},"current_user":null,"currency_map":{"data":{"AUD":"$","CAD":"$","EUR":"€","GBP":"£","NZD":"$","USD":"$"}},"siteglide_constants_loaded":{"true":true},"category_array":{"data":[]},"properties":{"data":[{"name":"enabled","value":"true"},{"name":"release_date","range":{"lt":"1660270459"}},{"name":"expiry_date","range":{"gt":"1660270459"}},{"name":"slug","value":"peter-mauger"}]},"properties_records":{"data":[{"name":"enabled","value":"true"},{"name":"release_date","range":{"lt":"1660270459"}},{"name":"expiry_date","range":{"gt":"1660270459"}},{"name":"slug","value":"peter-mauger"}]},"webapp_4":{"data":{"result":{"total_entries":1,"items":[{"id":"12855","name":"Peter Mauger","properties":{"name":"Peter Mauger","slug":"peter-mauger","enabled":true,"og_desc":null,"og_type":null,"og_title":null,"meta_desc":null,"weighting":2000,"meta_title":"Peter Mauger","expiry_date":2145916800,"release_date":1526083200,"twitter_type":null,"category_array":[],"webapp_field_4_1":"Principal Process Engineer","webapp_field_4_2":"images/staff/peter-mauger-b.jpg","webapp_field_4_3":"(03) 8400 4481","webapp_field_4_4":"112,101,116,101,114,46,109,97,117,103,101,114,64,98,114,105,103,104,116,46,99,111,109,46,97,117","webapp_field_4_5":"https://www.linkedin.com/in/petermauger ","webapp_field_4_6":"Peter Mauger","webapp_field_4_7":"","webapp_field_4_8":"

As the founding director of Bright, Peter's 15 years of food, beverage and pharmaceutical experience have defined the company's direction in these fields.  He has both depth and breadth of experience in many sections of the industry gained through 7 years as an internal engineer and 8 years in consulting.\n

\n

Peter completed a Chemical Engineering degree with honours at Monash University, as well as a Science degree majoring in Physics and Mathematics.  He has also completed a post-graduate degree in Brewing through the Institute of Brewing and Distilling in London. He is a Chartered Professional Engineer (CPEng), and a Registered Professional Engineer in Queensland (RPEQ).\n

\n

He has a strong drive and passion for improving the way businesses operate through a combination of sound theory and practical experience.  His personal approach, and ability to develop relationships helps deliver projects that are beneficial to his clients as well as suit the character they are striving to achieve.\n

\n

Peter has been an Olympic torchbearer and a runner-up for the Young Australian of the Year award.  He has guided many other engineers toward achieving chartered status and continues to develop his teams through both technical and practical experience.  Multiple projects he has worked on have been nominated for internal company awards.  He has actively engaged with Engineers Australia, delivering technical presentations and plant tours locally, and is a member of the Chemical College Board for his 3rd consecutive 2-year term.

","webapp_name":"Team","webapp_slug":"team","webapp_detail":true,"webapp_detail_template":null,"webapp_detail_default_layout":"default"},"model":"webapp_4","create_date":"1572354381","last_edit_date":"1645576188","creator":null,"webapp_name":"Team","webapp_slug":"team","webapp_detail":true,"webapp_detail_template":null,"webapp_detail_default_layout":"default","slug":"peter-mauger","weighting":2000,"release_date":1526083200,"expiry_date":2145916800,"enabled":true,"category_array":[],"meta_title":"Peter Mauger","meta_desc":null,"og_title":null,"og_desc":null,"og_type":null,"twitter_type":null,"Title":"Principal Process Engineer","Photo":"images/staff/peter-mauger-b.jpg","Phone Number":"(03) 8400 4481","Email Address":"112,101,116,101,114,46,109,97,117,103,101,114,64,98,114,105,103,104,116,46,99,111,109,46,97,117","LinkedIn":"https://www.linkedin.com/in/petermauger ","meta_description":"","Item Description":"

As the founding director of Bright, Peter's 15 years of food, beverage and pharmaceutical experience have defined the company's direction in these fields.  He has both depth and breadth of experience in many sections of the industry gained through 7 years as an internal engineer and 8 years in consulting.\n

\n

Peter completed a Chemical Engineering degree with honours at Monash University, as well as a Science degree majoring in Physics and Mathematics.  He has also completed a post-graduate degree in Brewing through the Institute of Brewing and Distilling in London. He is a Chartered Professional Engineer (CPEng), and a Registered Professional Engineer in Queensland (RPEQ).\n

\n

He has a strong drive and passion for improving the way businesses operate through a combination of sound theory and practical experience.  His personal approach, and ability to develop relationships helps deliver projects that are beneficial to his clients as well as suit the character they are striving to achieve.\n

\n

Peter has been an Olympic torchbearer and a runner-up for the Young Australian of the Year award.  He has guided many other engineers toward achieving chartered status and continues to develop his teams through both technical and practical experience.  Multiple projects he has worked on have been nominated for internal company awards.  He has actively engaged with Engineers Australia, delivering technical presentations and plant tours locally, and is a member of the Chemical College Board for his 3rd consecutive 2-year term.

","webapp_id":"4","full_slug":"/team/peter-mauger"}]}}}}}