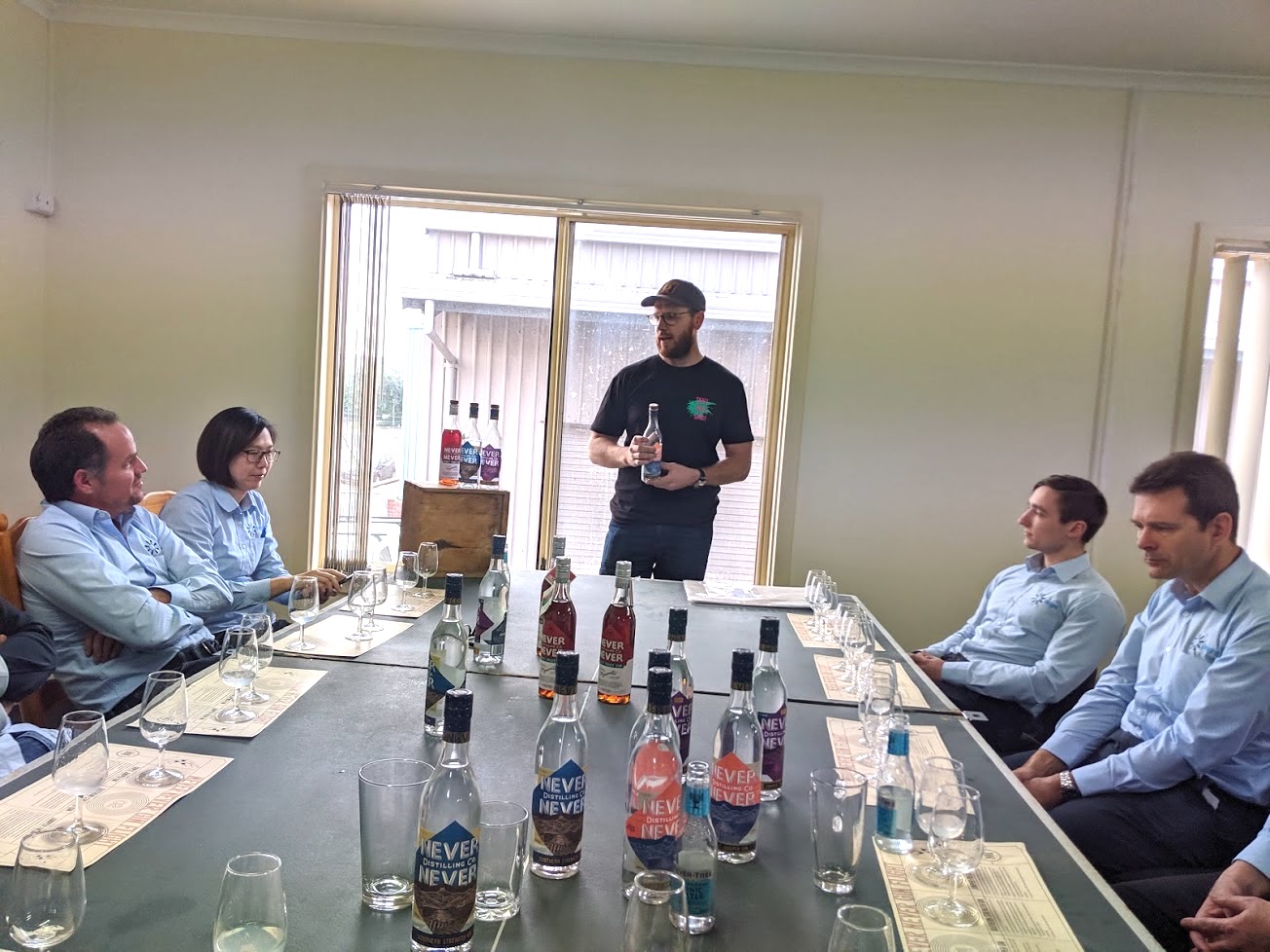 Gin Testing with Tim Boast from Never Never
---
---
Tim Boast is the 'Head Distiller and Guerrilla Distiller' at Never Never Distillery. Tim's passion and knowledge about gin is grounded from a very long family history dating back to his great, great, great grandmother in Scotland, and he shared his journey from his previous life in finance to his current one in distilling with us with a good deal of humour along the way.
Never Never provided an information and tasting session to the whole team after Sophia completed the Hazardous Area Classification for their new distillery and bar! Being on the 'tasting' end of food and wine production is one of the real perks of our job, and makes Bright quite an enjoyable place to work.
If you need assistance in any of the areas above, please contact us now.
{"authenticity_token":"287zELj8TUB5_Tre_HOmKoFKASzuXlNULqLNcueu1bx8o15HNx1rL07TkzAZaw0k2sNSB6yQ56AT7ISqdSi6oA","session":{"language":"en","_csrf_token":"9lgidmVe0qbr316vcSvE0mlEyd4jm5OSr3wpg3-IPTo","session_id":"f7569d4f4372a8d645116fc0692bcc85"},"csrf_request_valid":true,"current_user":null,"headers":{"QUERY_STRING":"","REQUEST_METHOD":"GET","REQUEST_URI":"/news/gin-testing-with-tim-boast-from-never-never","HTTP_HOST":"www.bright.com.au","HTTP_USER_AGENT":"CCBot/2.0 (https://commoncrawl.org/faq/)","HTTP_ACCEPT_ENCODING":"br,gzip","HTTP_ACCEPT_LANGUAGE":"en-US,en;q=0.5","HTTP_X_AMZN_TRACE_ID":"Root=1-657401d1-0b12582c2f6d16bf666bbb4e","HTTP_X_FORWARDED_FOR":"10.120.47.120","HTTP_X_FORWARDED_HOST":"www.bright.com.au","HTTP_X_FORWARDED_PORT":"80","HTTP_X_FORWARDED_PROTO":"https","HTTP_X_FORWARDED_SERVER":"traefik-655dc6b579-qsmgs","HTTP_X_REAL_IP":"10.120.47.120","SERVER_NAME":"www.bright.com.au","SERVER_PORT":"443","PATH_INFO":"/news/gin-testing-with-tim-boast-from-never-never","skylight.request_id":"5909e1d1-6a0f-4a73-9331-e1adc3868b49"},"params":{"slug":"news","slug2":"gin-testing-with-tim-boast-from-never-never","format":"html"},"language":"en","environment":"production","is_xhr":false,"instance":{"id":49,"uuid":"3f730085-5509-4be7-99c9-6a716c75bb6a","name":"bright"},"location":{"url":"https://www.bright.com.au/news/gin-testing-with-tim-boast-from-never-never","href":"/news/gin-testing-with-tim-boast-from-never-never","host":"www.bright.com.au","pathname":"/news/gin-testing-with-tim-boast-from-never-never","search":{}},"page":{"id":4222,"slug":"news","enable_profiler":false,"layout":"templates/6","layout_name":"templates/6","metadata":null},"layout":{"metadata":{"id":6,"name":"News Template","type":"page","file_type":"template","last_edit":1661938165923,"is_default":false,"use_studio_bs5":false,"use_design_system":true}},"visitor":{"ip":"10.120.47.120"},"useragent":"CCBot/2.0 (https://commoncrawl.org/faq/)","device":{"bot":true,"bot_name":"ccBot crawler","device_brand":null,"device_name":null,"device_type":null,"full_version":null,"known":false,"name":null,"os_full_version":null,"os_name":null},"cookies":{},"version":"131bcc176b04bbd3cd19a57ac57395a74b949760","post_params":"","hcaptcha_site_key":"ce2a4f04-a5cf-4da6-bd8a-da2e74c8913a","globals":{"time_zones":{"all":"Returns array of all time zones","us_zones":"Returns array of all us time zones"}},"modules":{"siteglide_menu":{"name":"siteglide_menu","scope_name":"siteglide_menu","version":null,"version_info":{},"subscription_info":{}},"siteglide_system":{"name":"siteglide_system","scope_name":"siteglide_system","version":null,"version_info":{},"subscription_info":{}},"siteglide_authors":{"name":"siteglide_authors","scope_name":"siteglide_authors","version":null,"version_info":{},"subscription_info":{}},"siteglide_design_system":{"name":"siteglide_design_system","scope_name":"siteglide_design_system","version":null,"version_info":{},"subscription_info":{}},"siteglide_media_downloads":{"name":"siteglide_media_downloads","scope_name":"siteglide_media_downloads","version":null,"version_info":{},"subscription_info":{}},"siteglide_blog":{"name":"siteglide_blog","scope_name":"siteglide_blog","version":null,"version_info":{},"subscription_info":{}}},"constants":"[FILTERED]","flash":{},"exports":{"categories":{"path":{"/home-category":"12865","/news-feed":"606241","/casestudies":"606242"},"items":{"12865":{"id":"12865","external_id":"2aae91cd-1581-4ebc-94d2-b911f25141bb","name":"Home Category","enabled":"true","parent":null,"slug":"home-category","full_slug":"/home-category","image":null,"image_alt":null,"description":null,"meta_title":null,"meta_desc":null,"og_title":null,"og_desc":null,"og_type":null,"twitter_type":null},"606241":{"id":"606241","external_id":"2ba95c3f-47bf-494f-931e-d5de1b0454e2","name":"News","enabled":"true","parent":null,"slug":"news-feed","full_slug":"/news-feed","image":null,"image_alt":null,"description":null,"meta_title":null,"meta_desc":null,"og_title":null,"og_desc":null,"og_type":null,"twitter_type":null},"606242":{"id":"606242","external_id":"f61f3073-9a4a-408a-a515-36b691e698a2","name":"Case Studies","enabled":"true","parent":null,"slug":"casestudies","full_slug":"/casestudies","image":null,"image_alt":null,"description":null,"meta_title":null,"meta_desc":null,"og_title":null,"og_desc":null,"og_type":null,"twitter_type":null}},"data":{"12865":{"id":"12865","external_id":"2aae91cd-1581-4ebc-94d2-b911f25141bb","name":"Home Category","enabled":"true","parent":null,"slug":"home-category","full_slug":"/home-category","image":null,"image_alt":null,"description":null,"meta_title":null,"meta_desc":null,"og_title":null,"og_desc":null,"og_type":null,"twitter_type":null},"606241":{"id":"606241","external_id":"2ba95c3f-47bf-494f-931e-d5de1b0454e2","name":"News","enabled":"true","parent":null,"slug":"news-feed","full_slug":"/news-feed","image":null,"image_alt":null,"description":null,"meta_title":null,"meta_desc":null,"og_title":null,"og_desc":null,"og_type":null,"twitter_type":null},"606242":{"id":"606242","external_id":"f61f3073-9a4a-408a-a515-36b691e698a2","name":"Case Studies","enabled":"true","parent":null,"slug":"casestudies","full_slug":"/casestudies","image":null,"image_alt":null,"description":null,"meta_title":null,"meta_desc":null,"og_title":null,"og_desc":null,"og_type":null,"twitter_type":null}}},"company_information":{"properties":{"logo":"images/logo.png","logo_white":"images/footer-logo.png","vat_number":null,"company_name":"Bright Engineering Consultants","phone_number":null,"email_address":null,"address_line_1":null,"address_line_2":null,"footer_template":"2","header_template":"1","twitter_account":null,"facebook_account":null,"linkedin_account":null,"instagram_account":null,"active_campaign_id":null,"google_analytics_id":null,"google_plus_account":null,"google_analytics_view_id":null,"google_analytics_site_verification":null}},"integrations":{"properties":{"recaptcha_site_key":"6Lfivr8UAAAAABEfXZB8ead9DZhvum9xl1kRtIWo","recaptcha_secret_key":"6Lfivr8UAAAAAJJr4_N27LTVBd-ebgv3XP03zwyU"}},"user_crm_fc":{"data":{"id":"9670","name":"user","fields":{"properties":{"address":{"name":"Address","type":"input_text","live":true,"hidden":true,"order":0,"editable":true,"required":false,"validation":{}},"company":{"name":"Company","type":"datasource_multi","live":true,"hidden":true,"order":0,"editable":true,"datasource_id":"company","required":false,"validation":{}},"starred_items":{"name":"starred_items","type":"datasource_multi","live":true,"hidden":true,"order":0,"editable":true,"datasource_id":"starred_items","required":false,"validation":{}},"tag_array":{"name":"Tags","type":"datasource_multi","live":true,"hidden":true,"order":0,"editable":true,"datasource_id":"tag","required":false,"validation":{}}}}}},"is_logged_in":{"data":false},"current_user":null,"currency_map":{"data":{"AUD":"$","CAD":"$","EUR":"€","GBP":"£","NZD":"$","USD":"$"}},"siteglide_constants_loaded":{"true":true},"category_array":{"data":[]},"properties":{"data":[{"name":"enabled","value":"true"},{"name":"release_date","range":{"lt":"1702101458"}},{"name":"expiry_date","range":{"gt":"1702101458"}},{"name":"slug","value":"gin-testing-with-tim-boast-from-never-never"}]},"properties_records":{"data":[{"name":"enabled","value":"true"},{"name":"release_date","range":{"lt":"1702101458"}},{"name":"expiry_date","range":{"gt":"1702101458"}},{"name":"slug","value":"gin-testing-with-tim-boast-from-never-never"}]},"webapp_5":{"data":{"result":{"total_entries":1,"items":[{"id":"13196","name":"Gin Testing with Tim Boast from Never Never","properties":{"name":"Gin Testing with Tim Boast from Never Never","slug":"gin-testing-with-tim-boast-from-never-never","enabled":true,"og_desc":null,"og_type":null,"og_title":null,"meta_desc":"Tim Boast, head distiller of Never Never delivered an in house gin tasting and education session for the team at Bright.","weighting":20191028,"meta_title":null,"expiry_date":2145916800,"release_date":1572235178,"twitter_type":null,"category_array":["606241"],"webapp_field_5_2":"

Tim Boast is the 'Head Distiller and Guerrilla Distiller' at Never Never Distillery. Tim's passion and knowledge about gin is grounded from a very long family history dating back to his great, great, great grandmother in Scotland, and he shared his journey from his previous life in finance to his current one in distilling with us with a good deal of humour along the way.

\n\n

Never Never provided an information and tasting session to the whole team after Sophia completed the Hazardous Area Classification for their new distillery and bar! Being on the 'tasting' end of food and wine production is one of the real perks of our job, and makes Bright quite an enjoyable place to work.

","webapp_field_5_3":"Peter Mauger","webapp_field_5_4":"images/news/TimBoastNeverNever.jpg","webapp_field_5_5":"","webapp_field_5_6":"","webapp_field_5_7":"https://www.bright.com.au/team/peter-mauger","webapp_field_5_9":[],"webapp_name":"News","webapp_slug":"news","webapp_detail":true,"webapp_detail_template":null,"webapp_detail_default_layout":"default"},"model":"webapp_5","create_date":"1572926543","last_edit_date":"1661905362","creator":null,"webapp_name":"News","webapp_slug":"news","webapp_detail":true,"webapp_detail_template":null,"webapp_detail_default_layout":"default","slug":"gin-testing-with-tim-boast-from-never-never","weighting":20191028,"release_date":1572235178,"expiry_date":2145916800,"enabled":true,"category_array":["606241"],"meta_title":null,"meta_desc":"Tim Boast, head distiller of Never Never delivered an in house gin tasting and education session for the team at Bright.","og_title":null,"og_desc":null,"og_type":null,"twitter_type":null,"Content":"

Tim Boast is the 'Head Distiller and Guerrilla Distiller' at Never Never Distillery. Tim's passion and knowledge about gin is grounded from a very long family history dating back to his great, great, great grandmother in Scotland, and he shared his journey from his previous life in finance to his current one in distilling with us with a good deal of humour along the way.

\n\n

Never Never provided an information and tasting session to the whole team after Sophia completed the Hazardous Area Classification for their new distillery and bar! Being on the 'tasting' end of food and wine production is one of the real perks of our job, and makes Bright quite an enjoyable place to work.

","Author":"Peter Mauger","Image 1":"images/news/TimBoastNeverNever.jpg","Image 2":"","Image 3":"","Author link":"https://www.bright.com.au/team/peter-mauger","Image Position":[],"webapp_id":"5","full_slug":"/news/gin-testing-with-tim-boast-from-never-never"}]}}}}}