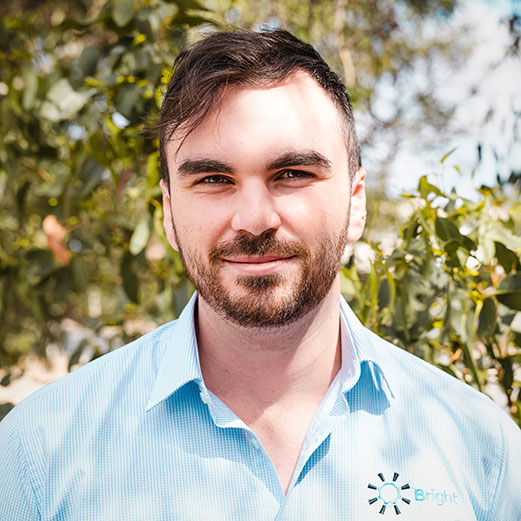 Thomas Hazell
Graduate Mechanical Engineer
Thomas recently joined Bright as a Graduate Mechanical Engineer after completing his industry placement at Bright. He has become proficient in the use of drafting software, including the Inventor and AutoCAD packages for the generation of 2D and 3D models. With internal support and guidance, Tom supports projects for a wide variety of clients including well-known brands on projects ranging from equipment design to full site layouts.
He completed his Bachelor of Engineering (Honours) (Mechanical) with a Bachelor of Finance at the University of Adelaide. Thomas was offered a position as a Graduate engineer and is now the 4th engineer to be working through the Bright's graduate program. The program offers training and experience opportunities in a range of varying design and management processes.
Thomas has a strong passion for problem solving and reverse engineering systems to help develop solutions for clients. He enjoys working alongside both his peers and clients and enjoys getting to know people on a personal level.
Phone:
0434 215 350
Email:

If you need assistance in any of the areas above, please contact us now.
{"authenticity_token":"a8lP7Wo+UwJLRdWeGaFwEzD3TFc/2Wq4qDeeMNaGyeiKOnQ6OyjY2TKv8F3tMwCs8h3PsSJDk5RUfdiCXAa6Pg==","session":{"language":"en","_csrf_token":"mS/rYp6FYMQepvoZAUE//OTtlDpjd1s/OEvhcOgJx7Y=","session_id":"bfafc21484bdf244c742e10c3ea15f2a"},"csrf_request_valid":true,"current_user":null,"headers":{"QUERY_STRING":"","REQUEST_METHOD":"GET","REQUEST_URI":"/team/thomas-hazell","HTTP_HOST":"www.bright.com.au","HTTP_USER_AGENT":"CCBot/2.0 (https://commoncrawl.org/faq/)","HTTP_ACCEPT_ENCODING":"br,gzip","HTTP_ACCEPT_LANGUAGE":"en-US,en;q=0.5","HTTP_IF_MODIFIED_SINCE":"Sun, 05 Dec 2021 18:11:42 GMT","HTTP_X_AMZN_TRACE_ID":"Root=1-62f5cfdb-0575fcbc65e83c3f1d79749c","HTTP_X_FORWARDED_FOR":"10.120.79.63","HTTP_X_FORWARDED_HOST":"www.bright.com.au","HTTP_X_FORWARDED_PORT":"80","HTTP_X_FORWARDED_PROTO":"https","HTTP_X_FORWARDED_SERVER":"traefik-54b894f58c-7272x","HTTP_X_REAL_IP":"10.120.79.63","SERVER_NAME":"www.bright.com.au","SERVER_PORT":"443","PATH_INFO":"/team/thomas-hazell","skylight.request_id":"6a6ad75a-1826-495a-87dd-101f031ef7b0"},"params":{"slug":"team","slug2":"thomas-hazell","format":"html"},"language":"en","environment":"production","is_xhr":false,"instance":{"id":49,"uuid":"3f730085-5509-4be7-99c9-6a716c75bb6a","name":"bright"},"location":{"url":"https://www.bright.com.au/team/thomas-hazell","href":"/team/thomas-hazell","host":"www.bright.com.au","pathname":"/team/thomas-hazell","search":{}},"page":{"id":1909,"slug":"team","enable_profiler":false,"layout":"templates/5","layout_name":"templates/5","metadata":null},"layout":{"metadata":{"id":5,"name":"Staff Template","type":"page","file_type":"template","last_edit":1645607976808,"is_default":false,"use_studio_bs5":false,"use_design_system":false}},"visitor":{"ip":"10.120.79.63"},"useragent":"CCBot/2.0 (https://commoncrawl.org/faq/)","device":{"bot":true,"bot_name":"ccBot crawler","device_brand":null,"device_name":null,"device_type":null,"full_version":null,"known":false,"name":null,"os_full_version":null,"os_name":null},"cookies":{},"version":"ef9ddd545869d1f17a64cffd600be77e2bd6a7f0-1660116858235","post_params":"","hcaptcha_site_key":"ce2a4f04-a5cf-4da6-bd8a-da2e74c8913a","modules":{"siteglide_menu":{"name":"siteglide_menu","scope_name":"siteglide_menu","version_info":{},"subscription_info":{}},"siteglide_system":{"name":"siteglide_system","scope_name":"siteglide_system","version_info":{},"subscription_info":{}},"siteglide_authors":{"name":"siteglide_authors","scope_name":"siteglide_authors","version_info":{},"subscription_info":{}},"siteglide_design_system":{"name":"siteglide_design_system","scope_name":"siteglide_design_system","version_info":{},"subscription_info":{}},"siteglide_media_downloads":{"name":"siteglide_media_downloads","scope_name":"siteglide_media_downloads","version_info":{},"subscription_info":{}},"siteglide_blog":{"name":"siteglide_blog","scope_name":"siteglide_blog","version_info":{},"subscription_info":{}}},"constants":"[FILTERED]","flash":{},"exports":{"categories":{"path":{"/home-category":"12865"},"items":{"12865":{"id":"12865","external_id":"2aae91cd-1581-4ebc-94d2-b911f25141bb","name":"Home Category","enabled":"true","parent":null,"slug":"home-category","full_slug":"/home-category","image":null,"image_alt":null,"description":null,"meta_title":null,"meta_desc":null,"og_title":null,"og_desc":null,"og_type":null,"twitter_type":null}},"data":{"12865":{"id":"12865","external_id":"2aae91cd-1581-4ebc-94d2-b911f25141bb","name":"Home Category","enabled":"true","parent":null,"slug":"home-category","full_slug":"/home-category","image":null,"image_alt":null,"description":null,"meta_title":null,"meta_desc":null,"og_title":null,"og_desc":null,"og_type":null,"twitter_type":null}}},"company_information":{"properties":{"logo":"images/logo.png","logo_white":"images/footer-logo.png","vat_number":null,"company_name":"Bright Engineering Consultants","phone_number":null,"email_address":null,"address_line_1":null,"address_line_2":null,"footer_template":"2","header_template":"1","twitter_account":null,"facebook_account":null,"linkedin_account":null,"instagram_account":null,"active_campaign_id":null,"google_analytics_id":null,"google_plus_account":null,"google_analytics_view_id":null,"google_analytics_site_verification":null}},"integrations":{"properties":{"recaptcha_site_key":"6Lfivr8UAAAAABEfXZB8ead9DZhvum9xl1kRtIWo","recaptcha_secret_key":"6Lfivr8UAAAAAJJr4_N27LTVBd-ebgv3XP03zwyU"}},"user_crm_fc":{"data":{"id":"9670","name":"user","fields":{"properties":{"address":{"name":"Address","type":"input_text","live":true,"hidden":true,"order":0,"editable":true,"required":false,"validation":{}},"company":{"name":"Company","type":"datasource_multi","live":true,"hidden":true,"order":0,"editable":true,"datasource_id":"company","required":false,"validation":{}},"starred_items":{"name":"starred_items","type":"datasource_multi","live":true,"hidden":true,"order":0,"editable":true,"datasource_id":"starred_items","required":false,"validation":{}},"tag_array":{"name":"Tags","type":"datasource_multi","live":true,"hidden":true,"order":0,"editable":true,"datasource_id":"tag","required":false,"validation":{}}}}}},"is_logged_in":{"data":false},"current_user":null,"currency_map":{"data":{"AUD":"$","CAD":"$","EUR":"€","GBP":"£","NZD":"$","USD":"$"}},"siteglide_constants_loaded":{"true":true},"category_array":{"data":[]},"properties":{"data":[{"name":"enabled","value":"true"},{"name":"release_date","range":{"lt":"1660276699"}},{"name":"expiry_date","range":{"gt":"1660276699"}},{"name":"slug","value":"thomas-hazell"}]},"properties_records":{"data":[{"name":"enabled","value":"true"},{"name":"release_date","range":{"lt":"1660276699"}},{"name":"expiry_date","range":{"gt":"1660276699"}},{"name":"slug","value":"thomas-hazell"}]},"webapp_4":{"data":{"result":{"total_entries":1,"items":[{"id":"606194","name":"Thomas Hazell","properties":{"name":"Thomas Hazell","slug":"thomas-hazell","enabled":true,"og_desc":null,"og_type":null,"og_title":null,"meta_desc":null,"weighting":null,"meta_title":null,"expiry_date":2145916800,"release_date":1614315485,"twitter_type":null,"category_array":[],"webapp_field_4_1":"Graduate Mechanical Engineer","webapp_field_4_2":"images/staff/Thomas-Hazell.jpg","webapp_field_4_3":"0434 215 350","webapp_field_4_4":"116,104,111,109,97,115,46,104,97,122,101,108,108,64,98,114,105,103,104,116,46,99,111,109,46,97,117","webapp_field_4_5":"","webapp_field_4_6":"","webapp_field_4_7":"","webapp_field_4_8":"

Thomas recently joined Bright as a Graduate Mechanical Engineer after completing his industry placement at Bright. He has become proficient in the use of drafting software, including the Inventor and AutoCAD packages for the generation of 2D and 3D models. With internal support and guidance, Tom supports projects for a wide variety of clients including well-known brands on projects ranging from equipment design to full site layouts.

\n

He completed his Bachelor of Engineering (Honours) (Mechanical) with a Bachelor of Finance at the University of Adelaide. Thomas was offered a position as a Graduate engineer and is now the 4th engineer to be working through the Bright's graduate program. The program offers training and experience opportunities in a range of varying design and management processes.

\n

Thomas has a strong passion for problem solving and reverse engineering systems to help develop solutions for clients. He enjoys working alongside both his peers and clients and enjoys getting to know people on a personal level.

","webapp_name":"Team","webapp_slug":"team","webapp_detail":true,"webapp_detail_template":null,"webapp_detail_default_layout":"default"},"model":"webapp_4","create_date":"1614315579","last_edit_date":"1647831245","creator":null,"webapp_name":"Team","webapp_slug":"team","webapp_detail":true,"webapp_detail_template":null,"webapp_detail_default_layout":"default","slug":"thomas-hazell","weighting":null,"release_date":1614315485,"expiry_date":2145916800,"enabled":true,"category_array":[],"meta_title":"","meta_desc":null,"og_title":null,"og_desc":null,"og_type":null,"twitter_type":null,"Title":"Graduate Mechanical Engineer","Photo":"images/staff/Thomas-Hazell.jpg","Phone Number":"0434 215 350","Email Address":"116,104,111,109,97,115,46,104,97,122,101,108,108,64,98,114,105,103,104,116,46,99,111,109,46,97,117","LinkedIn":"","meta_description":"","Item Description":"

Thomas recently joined Bright as a Graduate Mechanical Engineer after completing his industry placement at Bright. He has become proficient in the use of drafting software, including the Inventor and AutoCAD packages for the generation of 2D and 3D models. With internal support and guidance, Tom supports projects for a wide variety of clients including well-known brands on projects ranging from equipment design to full site layouts.

\n

He completed his Bachelor of Engineering (Honours) (Mechanical) with a Bachelor of Finance at the University of Adelaide. Thomas was offered a position as a Graduate engineer and is now the 4th engineer to be working through the Bright's graduate program. The program offers training and experience opportunities in a range of varying design and management processes.

\n

Thomas has a strong passion for problem solving and reverse engineering systems to help develop solutions for clients. He enjoys working alongside both his peers and clients and enjoys getting to know people on a personal level.

","webapp_id":"4","full_slug":"/team/thomas-hazell"}]}}}}}