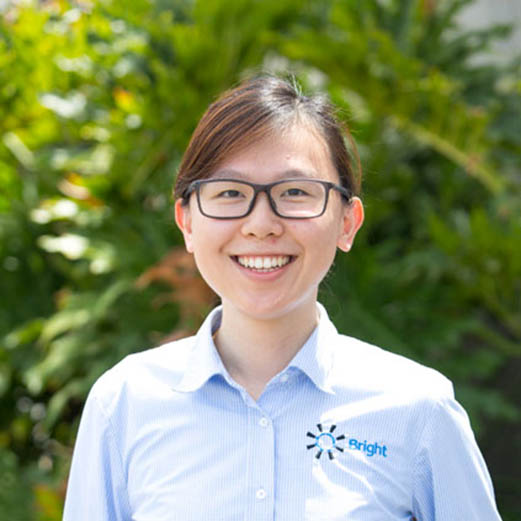 Sophia Wang
Process Engineer
As an Engineer at Bright, Sophia has completed projects for multiple clients from concept through to completion. She has experience in beverages, baking, chocolate and agricultural projects where she has developed practical experience and the ability to work with clients and trades to achieve solid outcomes.
Sophia completed a Chemical Engineering degree with honours at University of Adelaide. Throughout her two years at Bright as a graduate engineer, she was mentored and trained by Senior Engineers at Bright, and has been worked closely with multiple clients, and being first point of contact for many clients.
Sophia has also completed HAZOP participant training, basic PLC programming training, and internal AutoCAD training; and holds White Card, Work at Height ticket and EWP (scissor lift) licence.
Sophia is bilingual in English and Mandarin which adds values on technical and communication support for clients who is dealing with, or would like to explore the opportunities to work with Chinese suppliers.
Sophia is an energetic engineer who has can-do attitude and collaborates well and understands business objectives to complete a project from start to finish.
Phone:
(08) 7100 1122
Email:

If you need assistance in any of the areas above, please contact us now.
{"authenticity_token":"f/t+uSLDkmGWRC80Q3hjS4eDecefgldywqzmyAGRtFcpzgRMbH2VzNoA6JDKQSkCMcrVrhXiwRtSrTlQ+d8mCw==","session":{"language":"en","_csrf_token":"1rHXiexIFggHjM+HAfPpHE5aDRl4OmVg5TKsSkJ7Jl4=","session_id":"97cf53472bec1dae0d454736ba0770bf"},"csrf_request_valid":true,"current_user":null,"headers":{"QUERY_STRING":"","REQUEST_METHOD":"GET","REQUEST_URI":"/team/sophia-wang","HTTP_HOST":"www.bright.com.au","HTTP_USER_AGENT":"CCBot/2.0 (https://commoncrawl.org/faq/)","HTTP_ACCEPT_ENCODING":"br,gzip","HTTP_ACCEPT_LANGUAGE":"en-US,en;q=0.5","HTTP_X_AMZN_TRACE_ID":"Root=1-61ad0032-47b3ea230385a361362b90d1","HTTP_X_FORWARDED_FOR":"10.120.45.117","HTTP_X_FORWARDED_HOST":"www.bright.com.au","HTTP_X_FORWARDED_PORT":"80","HTTP_X_FORWARDED_PROTO":"https","HTTP_X_FORWARDED_SERVER":"traefik-54b894f58c-cqccv","HTTP_X_REAL_IP":"10.120.45.117","SERVER_NAME":"www.bright.com.au","SERVER_PORT":"443","PATH_INFO":"/team/sophia-wang","skylight.request_id":"61be94af-7aa4-4865-861c-fd1479e16717"},"params":{"slug":"team","slug2":"sophia-wang","format":"html"},"language":"en","environment":"production","is_xhr":null,"instance":{"id":49,"uuid":"3f730085-5509-4be7-99c9-6a716c75bb6a","name":"bright"},"location":{"url":"https://www.bright.com.au/team/sophia-wang","href":"/team/sophia-wang","host":"www.bright.com.au","pathname":"/team/sophia-wang","search":{}},"page":{"id":1909,"slug":"team","enable_profiler":false,"layout":"templates/5","layout_name":"templates/5","metadata":null},"layout":{"metadata":{"id":5,"name":"Staff Template","type":"page","file_type":"template","last_edit":1574158965077,"is_default":false,"use_design_system":false}},"visitor":{"ip":"10.120.32.61"},"useragent":"CCBot/2.0 (https://commoncrawl.org/faq/)","device":{"bot":true,"bot_name":"ccBot crawler","device_brand":null,"device_name":null,"device_type":null,"full_version":null,"known":false,"name":null,"os_full_version":null,"os_name":null},"cookies":{},"version":"bb467c00d66c6ba016f52b5bcae25774ecb2784c-1638560798196","post_params":"","hcaptcha_site_key":"ce2a4f04-a5cf-4da6-bd8a-da2e74c8913a","modules":{"siteglide_menu":{"name":"siteglide_menu","scope_name":"siteglide_menu","version_info":{},"subscription_info":{}},"siteglide_system":{"name":"siteglide_system","scope_name":"siteglide_system","version_info":{},"subscription_info":{}},"siteglide_authors":{"name":"siteglide_authors","scope_name":"siteglide_authors","version_info":{},"subscription_info":{}},"siteglide_design_system":{"name":"siteglide_design_system","scope_name":"siteglide_design_system","version_info":{},"subscription_info":{}},"siteglide_media_downloads":{"name":"siteglide_media_downloads","scope_name":"siteglide_media_downloads","version_info":{},"subscription_info":{}},"siteglide_blog":{"name":"siteglide_blog","scope_name":"siteglide_blog","version_info":{},"subscription_info":{}}},"constants":"[FILTERED]","flash":{},"exports":{"categories":{"path":{"/home-category":"12865"},"items":{"12865":{"id":"12865","external_id":"2aae91cd-1581-4ebc-94d2-b911f25141bb","name":"Home Category","enabled":"true","parent":null,"slug":"home-category","full_slug":"/home-category","image":null,"image_alt":null,"description":null,"meta_title":null,"meta_desc":null,"og_title":null,"og_desc":null,"og_type":null,"twitter_type":null}},"data":{"12865":{"id":"12865","external_id":"2aae91cd-1581-4ebc-94d2-b911f25141bb","name":"Home Category","enabled":"true","parent":null,"slug":"home-category","full_slug":"/home-category","image":null,"image_alt":null,"description":null,"meta_title":null,"meta_desc":null,"og_title":null,"og_desc":null,"og_type":null,"twitter_type":null}}},"company_information":{"properties":{"logo":"images/logo.png","logo_white":"images/footer-logo.png","vat_number":null,"company_name":"Bright Engineering Consultants","phone_number":null,"email_address":null,"address_line_1":null,"address_line_2":null,"footer_template":"2","header_template":"1","twitter_account":null,"facebook_account":null,"linkedin_account":null,"instagram_account":null,"active_campaign_id":null,"google_analytics_id":null,"google_plus_account":null,"google_analytics_view_id":null,"google_analytics_site_verification":null}},"integrations":{"properties":{"recaptcha_site_key":"6Lfivr8UAAAAABEfXZB8ead9DZhvum9xl1kRtIWo","recaptcha_secret_key":"6Lfivr8UAAAAAJJr4_N27LTVBd-ebgv3XP03zwyU"}},"user_crm_fc":{"data":{"id":"9670","name":"user","fields":{"properties":{"address":{"name":"Address","type":"input_text","live":true,"hidden":true,"order":0,"editable":true,"required":false,"validation":{}},"company":{"name":"Company","type":"datasource_multi","live":true,"hidden":true,"order":0,"editable":true,"datasource_id":"company","required":false,"validation":{}},"starred_items":{"name":"starred_items","type":"datasource_multi","live":true,"hidden":true,"order":0,"editable":true,"datasource_id":"starred_items","required":false,"validation":{}},"tag_array":{"name":"Tags","type":"datasource_multi","live":true,"hidden":true,"order":0,"editable":true,"datasource_id":"tag","required":false,"validation":{}}}}}},"is_logged_in":{"data":false},"current_user":null,"currency_map":{"data":{"AUD":"$","CAD":"$","EUR":"€","GBP":"£","NZD":"$","USD":"$"}},"siteglide_constants_loaded":{"true":true},"category_array":{"data":[]},"properties":{"data":[{"name":"enabled","value":"true"},{"name":"release_date","range":{"lt":"1638727730"}},{"name":"expiry_date","range":{"gt":"1638727730"}},{"name":"slug","value":"sophia-wang"}]},"properties_records":{"data":[{"name":"enabled","value":"true"},{"name":"release_date","range":{"lt":"1638727730"}},{"name":"expiry_date","range":{"gt":"1638727730"}},{"name":"slug","value":"sophia-wang"}]},"webapp_4":{"data":{"result":{"total_entries":1,"items":[{"id":"12857","name":"Sophia Wang","properties":{"name":"Sophia Wang","slug":"sophia-wang","enabled":true,"og_desc":null,"og_type":null,"og_title":null,"meta_desc":null,"weighting":1800,"meta_title":"Sophia Wang","expiry_date":2145916800,"release_date":1526083200,"twitter_type":null,"category_array":[],"webapp_field_4_1":"Process Engineer","webapp_field_4_2":"images/staff/sophia-wang.jpg","webapp_field_4_3":"(08) 7100 1122","webapp_field_4_4":"115,111,112,104,105,97,46,119,97,110,103,64,98,114,105,103,104,116,46,99,111,109,46,97,117","webapp_field_4_5":"https://www.linkedin.com/in/luoshan-sophia-wang-b1a38895","webapp_field_4_6":"Sophia Wang","webapp_field_4_7":"","webapp_field_4_8":"

As an Engineer at Bright, Sophia has completed projects for multiple clients from concept through to completion. She has experience in beverages, baking,\n    chocolate and agricultural projects where she has developed practical experience and the ability to work with clients and trades to achieve\n    solid outcomes. 

\n

Sophia completed a Chemical Engineering degree with honours at University of Adelaide. Throughout her two years at Bright as a graduate engineer, she was\n    mentored and trained by Senior Engineers at Bright, and has been worked closely with multiple clients, and being first point of contact for many clients.\n    

\n

Sophia has also completed HAZOP participant training, basic PLC programming training, and internal AutoCAD training; and holds White Card, Work at Height\n    ticket and EWP (scissor lift) licence. 

\n

Sophia is bilingual in English and Mandarin which adds values on technical and communication support for clients who is dealing with, or would like to\n    explore the opportunities to work with Chinese suppliers. 

\n

Sophia is an energetic engineer who has can-do attitude and collaborates well and understands business objectives to complete a project from start to finish.

","webapp_name":"Team","webapp_slug":"team","webapp_detail":true,"webapp_detail_template":null,"webapp_detail_default_layout":"default"},"model":"webapp_4","create_date":"1572354381","last_edit_date":"1619038833","creator":null,"webapp_name":"Team","webapp_slug":"team","webapp_detail":true,"webapp_detail_template":null,"webapp_detail_default_layout":"default","slug":"sophia-wang","weighting":1800,"release_date":1526083200,"expiry_date":2145916800,"enabled":true,"category_array":[],"meta_title":"Sophia Wang","meta_desc":null,"og_title":null,"og_desc":null,"og_type":null,"twitter_type":null,"Title":"Process Engineer","Photo":"images/staff/sophia-wang.jpg","Phone Number":"(08) 7100 1122","Email Address":"115,111,112,104,105,97,46,119,97,110,103,64,98,114,105,103,104,116,46,99,111,109,46,97,117","LinkedIn":"https://www.linkedin.com/in/luoshan-sophia-wang-b1a38895","meta_description":"","Item Description":"

As an Engineer at Bright, Sophia has completed projects for multiple clients from concept through to completion. She has experience in beverages, baking,\n    chocolate and agricultural projects where she has developed practical experience and the ability to work with clients and trades to achieve\n    solid outcomes. 

\n

Sophia completed a Chemical Engineering degree with honours at University of Adelaide. Throughout her two years at Bright as a graduate engineer, she was\n    mentored and trained by Senior Engineers at Bright, and has been worked closely with multiple clients, and being first point of contact for many clients.\n    

\n

Sophia has also completed HAZOP participant training, basic PLC programming training, and internal AutoCAD training; and holds White Card, Work at Height\n    ticket and EWP (scissor lift) licence. 

\n

Sophia is bilingual in English and Mandarin which adds values on technical and communication support for clients who is dealing with, or would like to\n    explore the opportunities to work with Chinese suppliers. 

\n

Sophia is an energetic engineer who has can-do attitude and collaborates well and understands business objectives to complete a project from start to finish.

","webapp_id":"4","full_slug":"/team/sophia-wang"}]}}}}}