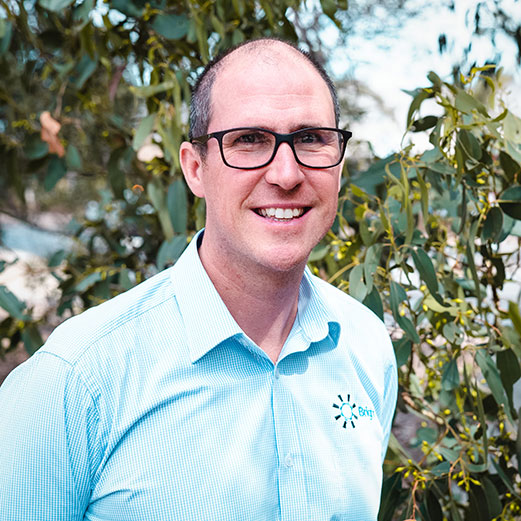 Sam Cook
Senior Process Engineer
As a Senior Process Engineer at Bright, Sam brings over 12 years of international experience in the pharmaceutical and medical device manufacturing industries. Having worked for multinational companies within Australia and the United Kingdom, Sam adds extensive experience with implementing and driving change within highly regulated GMP environments.
Sam completed a PhD in Chemical Engineering as well as holding a double degree in Chemical Engineering (honors) and Science majoring in Microbiology. He is a Chartered member (CEng) of the Institution of Chemical Engineers (IChemE).
Sam has a passion for process safety, quality, continuous improvement, and growth and has completed various international training programs in Process Safety including HAZOP Leadership, GMP and Lean-Sigma and has applied these skills across multiple successful projects through his career.
Sam has a keen interest in coaching and developing others and getting the best out of people. He enjoys bringing the technical and people side of projects together to ensure a great outcome for all stakeholders.
Phone:
0427 577 685
Email:

If you need assistance in any of the areas above, please contact us now.
{"authenticity_token":"lZGSuABpfJS+d0lDx3b/gDKEr0NcldN8PPmOiIw0nyAcGkPskR7KKiq6VQGehNBT2gVxihyIhacYfLF2Oa++IQ==","session":{"language":"en","_csrf_token":"XDMI+VJvHpTzaxHeVjRd6ibexpiXHBpqsW2SOS5izmQ=","session_id":"939cabbaa711116c6f992412216bc6b7"},"csrf_request_valid":true,"current_user":null,"headers":{"QUERY_STRING":"","REQUEST_METHOD":"GET","REQUEST_URI":"/team/sam-cook","HTTP_HOST":"www.bright.com.au","HTTP_USER_AGENT":"CCBot/2.0 (https://commoncrawl.org/faq/)","HTTP_ACCEPT_ENCODING":"br,gzip","HTTP_ACCEPT_LANGUAGE":"en-US,en;q=0.5","HTTP_IF_MODIFIED_SINCE":"Sun, 05 Dec 2021 17:40:14 GMT","HTTP_X_AMZN_TRACE_ID":"Root=1-62f5c88f-22a91f8e13f94b717be43cec","HTTP_X_FORWARDED_FOR":"10.120.3.65","HTTP_X_FORWARDED_HOST":"www.bright.com.au","HTTP_X_FORWARDED_PORT":"80","HTTP_X_FORWARDED_PROTO":"https","HTTP_X_FORWARDED_SERVER":"traefik-54b894f58c-7272x","HTTP_X_REAL_IP":"10.120.3.65","SERVER_NAME":"www.bright.com.au","SERVER_PORT":"443","PATH_INFO":"/team/sam-cook","skylight.request_id":"1bd2e69c-8afa-4d8f-bd18-75ef8ac5262a"},"params":{"slug":"team","slug2":"sam-cook","format":"html"},"language":"en","environment":"production","is_xhr":false,"instance":{"id":49,"uuid":"3f730085-5509-4be7-99c9-6a716c75bb6a","name":"bright"},"location":{"url":"https://www.bright.com.au/team/sam-cook","href":"/team/sam-cook","host":"www.bright.com.au","pathname":"/team/sam-cook","search":{}},"page":{"id":1909,"slug":"team","enable_profiler":false,"layout":"templates/5","layout_name":"templates/5","metadata":null},"layout":{"metadata":{"id":5,"name":"Staff Template","type":"page","file_type":"template","last_edit":1645607976808,"is_default":false,"use_studio_bs5":false,"use_design_system":false}},"visitor":{"ip":"10.120.3.65"},"useragent":"CCBot/2.0 (https://commoncrawl.org/faq/)","device":{"bot":true,"bot_name":"ccBot crawler","device_brand":null,"device_name":null,"device_type":null,"full_version":null,"known":false,"name":null,"os_full_version":null,"os_name":null},"cookies":{},"version":"ef9ddd545869d1f17a64cffd600be77e2bd6a7f0-1660116858235","post_params":"","hcaptcha_site_key":"ce2a4f04-a5cf-4da6-bd8a-da2e74c8913a","modules":{"siteglide_menu":{"name":"siteglide_menu","scope_name":"siteglide_menu","version_info":{},"subscription_info":{}},"siteglide_system":{"name":"siteglide_system","scope_name":"siteglide_system","version_info":{},"subscription_info":{}},"siteglide_authors":{"name":"siteglide_authors","scope_name":"siteglide_authors","version_info":{},"subscription_info":{}},"siteglide_design_system":{"name":"siteglide_design_system","scope_name":"siteglide_design_system","version_info":{},"subscription_info":{}},"siteglide_media_downloads":{"name":"siteglide_media_downloads","scope_name":"siteglide_media_downloads","version_info":{},"subscription_info":{}},"siteglide_blog":{"name":"siteglide_blog","scope_name":"siteglide_blog","version_info":{},"subscription_info":{}}},"constants":"[FILTERED]","flash":{},"exports":{"categories":{"path":{"/home-category":"12865"},"items":{"12865":{"id":"12865","external_id":"2aae91cd-1581-4ebc-94d2-b911f25141bb","name":"Home Category","enabled":"true","parent":null,"slug":"home-category","full_slug":"/home-category","image":null,"image_alt":null,"description":null,"meta_title":null,"meta_desc":null,"og_title":null,"og_desc":null,"og_type":null,"twitter_type":null}},"data":{"12865":{"id":"12865","external_id":"2aae91cd-1581-4ebc-94d2-b911f25141bb","name":"Home Category","enabled":"true","parent":null,"slug":"home-category","full_slug":"/home-category","image":null,"image_alt":null,"description":null,"meta_title":null,"meta_desc":null,"og_title":null,"og_desc":null,"og_type":null,"twitter_type":null}}},"company_information":{"properties":{"logo":"images/logo.png","logo_white":"images/footer-logo.png","vat_number":null,"company_name":"Bright Engineering Consultants","phone_number":null,"email_address":null,"address_line_1":null,"address_line_2":null,"footer_template":"2","header_template":"1","twitter_account":null,"facebook_account":null,"linkedin_account":null,"instagram_account":null,"active_campaign_id":null,"google_analytics_id":null,"google_plus_account":null,"google_analytics_view_id":null,"google_analytics_site_verification":null}},"integrations":{"properties":{"recaptcha_site_key":"6Lfivr8UAAAAABEfXZB8ead9DZhvum9xl1kRtIWo","recaptcha_secret_key":"6Lfivr8UAAAAAJJr4_N27LTVBd-ebgv3XP03zwyU"}},"user_crm_fc":{"data":{"id":"9670","name":"user","fields":{"properties":{"address":{"name":"Address","type":"input_text","live":true,"hidden":true,"order":0,"editable":true,"required":false,"validation":{}},"company":{"name":"Company","type":"datasource_multi","live":true,"hidden":true,"order":0,"editable":true,"datasource_id":"company","required":false,"validation":{}},"starred_items":{"name":"starred_items","type":"datasource_multi","live":true,"hidden":true,"order":0,"editable":true,"datasource_id":"starred_items","required":false,"validation":{}},"tag_array":{"name":"Tags","type":"datasource_multi","live":true,"hidden":true,"order":0,"editable":true,"datasource_id":"tag","required":false,"validation":{}}}}}},"is_logged_in":{"data":false},"current_user":null,"currency_map":{"data":{"AUD":"$","CAD":"$","EUR":"€","GBP":"£","NZD":"$","USD":"$"}},"siteglide_constants_loaded":{"true":true},"category_array":{"data":[]},"properties":{"data":[{"name":"enabled","value":"true"},{"name":"release_date","range":{"lt":"1660274831"}},{"name":"expiry_date","range":{"gt":"1660274831"}},{"name":"slug","value":"sam-cook"}]},"properties_records":{"data":[{"name":"enabled","value":"true"},{"name":"release_date","range":{"lt":"1660274831"}},{"name":"expiry_date","range":{"gt":"1660274831"}},{"name":"slug","value":"sam-cook"}]},"webapp_4":{"data":{"result":{"total_entries":1,"items":[{"id":"606193","name":"Sam Cook","properties":{"name":"Sam Cook","slug":"sam-cook","enabled":true,"og_desc":null,"og_type":null,"og_title":null,"meta_desc":null,"weighting":null,"meta_title":null,"expiry_date":2145916800,"release_date":1614315410,"twitter_type":null,"category_array":[],"webapp_field_4_1":"Senior Process Engineer","webapp_field_4_2":"images/staff/Sam-Cook.jpg","webapp_field_4_3":"0427 577 685","webapp_field_4_4":"115,97,109,46,99,111,111,107,64,98,114,105,103,104,116,46,99,111,109,46,97,117","webapp_field_4_5":"","webapp_field_4_6":"","webapp_field_4_7":"","webapp_field_4_8":"

As a Senior Process Engineer at Bright, Sam brings over 12 years of international experience in the pharmaceutical and medical device manufacturing industries. Having worked for multinational companies within Australia and the United Kingdom, Sam adds extensive experience with implementing and driving change within highly regulated GMP environments.

\n

Sam completed a PhD in Chemical Engineering as well as holding a double degree in Chemical Engineering (honors) and Science majoring in Microbiology. He is a Chartered member (CEng) of the Institution of Chemical Engineers (IChemE).

\n

Sam has a passion for process safety, quality, continuous improvement, and growth and has completed various international training programs in Process Safety including HAZOP Leadership, GMP and Lean-Sigma and has applied these skills across multiple successful projects through his career.

\n

Sam has a keen interest in coaching and developing others and getting the best out of people. He enjoys bringing the technical and people side of projects together to ensure a great outcome for all stakeholders.

","webapp_name":"Team","webapp_slug":"team","webapp_detail":true,"webapp_detail_template":null,"webapp_detail_default_layout":"default"},"model":"webapp_4","create_date":"1614315483","last_edit_date":"1619038836","creator":null,"webapp_name":"Team","webapp_slug":"team","webapp_detail":true,"webapp_detail_template":null,"webapp_detail_default_layout":"default","slug":"sam-cook","weighting":null,"release_date":1614315410,"expiry_date":2145916800,"enabled":true,"category_array":[],"meta_title":"","meta_desc":null,"og_title":null,"og_desc":null,"og_type":null,"twitter_type":null,"Title":"Senior Process Engineer","Photo":"images/staff/Sam-Cook.jpg","Phone Number":"0427 577 685","Email Address":"115,97,109,46,99,111,111,107,64,98,114,105,103,104,116,46,99,111,109,46,97,117","LinkedIn":"","meta_description":"","Item Description":"

As a Senior Process Engineer at Bright, Sam brings over 12 years of international experience in the pharmaceutical and medical device manufacturing industries. Having worked for multinational companies within Australia and the United Kingdom, Sam adds extensive experience with implementing and driving change within highly regulated GMP environments.

\n

Sam completed a PhD in Chemical Engineering as well as holding a double degree in Chemical Engineering (honors) and Science majoring in Microbiology. He is a Chartered member (CEng) of the Institution of Chemical Engineers (IChemE).

\n

Sam has a passion for process safety, quality, continuous improvement, and growth and has completed various international training programs in Process Safety including HAZOP Leadership, GMP and Lean-Sigma and has applied these skills across multiple successful projects through his career.

\n

Sam has a keen interest in coaching and developing others and getting the best out of people. He enjoys bringing the technical and people side of projects together to ensure a great outcome for all stakeholders.

","webapp_id":"4","full_slug":"/team/sam-cook"}]}}}}}