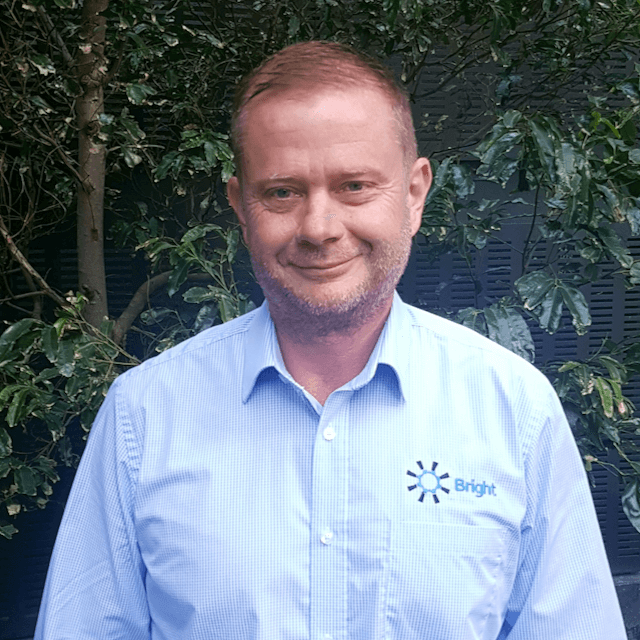 Michael Pecar
Principal Chemical Engineer
As a Principal Engineer at Bright, Michael's 30+ years experience in the food and beverage industries allow him to provide expert advice on beverages manufacturing and packaging, as well as project direction and governance expertise. Michael has been involved in major expansions and process optimisation projects from beverage making to packaging across brewing, Cider, RTD's, Wine and Spirits. In his time at CUB, Michael headed the company's Energy and Water efficiency programs for over a 10 year period which saw significant improvements across the company.
Michael has completed a Bachelor of Engineering in Chemical Engineering at RMIT. He has also completed a Master of Engineering at RMIT in collaboration with CSIRO on Cheese Whey manufacture. Michael has completed regular and wide-ranging internal and external training throughout his career.
Michael has managed teams both directly and indirectly, across different countries and states. He understands successful projects are about creating the right team, and bringing them along for the journey. Michael's collaborative approach to work, desire and practical knowledge lead to successful outcomes.
Phone:
Email:

If you need assistance in any of the areas above, please contact us now.
{"authenticity_token":"EYObMwk3JaKvnP2qxLMUL0NHEp5bHjo/MMOWhRfOZ4UfJfkzB8PhvU5fwkW/a31Hck2X6eRrBV0QRFi9dyVHTg==","session":{"language":"en","_csrf_token":"e/nH5OTiNaIxExRFUvz/JCsVIwMyVQLlSdaQ6ZiYPD0=","session_id":"1261665c22f98867fe5d3428273cb781"},"csrf_request_valid":true,"current_user":null,"headers":{"QUERY_STRING":"","REQUEST_METHOD":"GET","REQUEST_URI":"/team/michael-pecar","HTTP_HOST":"www.bright.com.au","HTTP_USER_AGENT":"CCBot/2.0 (https://commoncrawl.org/faq/)","HTTP_ACCEPT_ENCODING":"br,gzip","HTTP_ACCEPT_LANGUAGE":"en-US,en;q=0.5","HTTP_IF_MODIFIED_SINCE":"Sun, 05 Dec 2021 17:34:31 GMT","HTTP_X_AMZN_TRACE_ID":"Root=1-62f5c60a-551bba836cc44a216c5b8313","HTTP_X_FORWARDED_FOR":"10.120.3.65","HTTP_X_FORWARDED_HOST":"www.bright.com.au","HTTP_X_FORWARDED_PORT":"80","HTTP_X_FORWARDED_PROTO":"https","HTTP_X_FORWARDED_SERVER":"traefik-54b894f58c-cmpq6","HTTP_X_REAL_IP":"10.120.3.65","SERVER_NAME":"www.bright.com.au","SERVER_PORT":"443","PATH_INFO":"/team/michael-pecar","skylight.request_id":"e2438787-0374-4047-81f2-32f699cc8de7"},"params":{"slug":"team","slug2":"michael-pecar","format":"html"},"language":"en","environment":"production","is_xhr":false,"instance":{"id":49,"uuid":"3f730085-5509-4be7-99c9-6a716c75bb6a","name":"bright"},"location":{"url":"https://www.bright.com.au/team/michael-pecar","href":"/team/michael-pecar","host":"www.bright.com.au","pathname":"/team/michael-pecar","search":{}},"page":{"id":1909,"slug":"team","enable_profiler":false,"layout":"templates/5","layout_name":"templates/5","metadata":null},"layout":{"metadata":{"id":5,"name":"Staff Template","type":"page","file_type":"template","last_edit":1645607976808,"is_default":false,"use_studio_bs5":false,"use_design_system":false}},"visitor":{"ip":"10.120.3.65"},"useragent":"CCBot/2.0 (https://commoncrawl.org/faq/)","device":{"bot":true,"bot_name":"ccBot crawler","device_brand":null,"device_name":null,"device_type":null,"full_version":null,"known":false,"name":null,"os_full_version":null,"os_name":null},"cookies":{},"version":"ef9ddd545869d1f17a64cffd600be77e2bd6a7f0-1660116858235","post_params":"","hcaptcha_site_key":"ce2a4f04-a5cf-4da6-bd8a-da2e74c8913a","modules":{"siteglide_menu":{"name":"siteglide_menu","scope_name":"siteglide_menu","version_info":{},"subscription_info":{}},"siteglide_system":{"name":"siteglide_system","scope_name":"siteglide_system","version_info":{},"subscription_info":{}},"siteglide_authors":{"name":"siteglide_authors","scope_name":"siteglide_authors","version_info":{},"subscription_info":{}},"siteglide_design_system":{"name":"siteglide_design_system","scope_name":"siteglide_design_system","version_info":{},"subscription_info":{}},"siteglide_media_downloads":{"name":"siteglide_media_downloads","scope_name":"siteglide_media_downloads","version_info":{},"subscription_info":{}},"siteglide_blog":{"name":"siteglide_blog","scope_name":"siteglide_blog","version_info":{},"subscription_info":{}}},"constants":"[FILTERED]","flash":{},"exports":{"categories":{"path":{"/home-category":"12865"},"items":{"12865":{"id":"12865","external_id":"2aae91cd-1581-4ebc-94d2-b911f25141bb","name":"Home Category","enabled":"true","parent":null,"slug":"home-category","full_slug":"/home-category","image":null,"image_alt":null,"description":null,"meta_title":null,"meta_desc":null,"og_title":null,"og_desc":null,"og_type":null,"twitter_type":null}},"data":{"12865":{"id":"12865","external_id":"2aae91cd-1581-4ebc-94d2-b911f25141bb","name":"Home Category","enabled":"true","parent":null,"slug":"home-category","full_slug":"/home-category","image":null,"image_alt":null,"description":null,"meta_title":null,"meta_desc":null,"og_title":null,"og_desc":null,"og_type":null,"twitter_type":null}}},"company_information":{"properties":{"logo":"images/logo.png","logo_white":"images/footer-logo.png","vat_number":null,"company_name":"Bright Engineering Consultants","phone_number":null,"email_address":null,"address_line_1":null,"address_line_2":null,"footer_template":"2","header_template":"1","twitter_account":null,"facebook_account":null,"linkedin_account":null,"instagram_account":null,"active_campaign_id":null,"google_analytics_id":null,"google_plus_account":null,"google_analytics_view_id":null,"google_analytics_site_verification":null}},"integrations":{"properties":{"recaptcha_site_key":"6Lfivr8UAAAAABEfXZB8ead9DZhvum9xl1kRtIWo","recaptcha_secret_key":"6Lfivr8UAAAAAJJr4_N27LTVBd-ebgv3XP03zwyU"}},"user_crm_fc":{"data":{"id":"9670","name":"user","fields":{"properties":{"address":{"name":"Address","type":"input_text","live":true,"hidden":true,"order":0,"editable":true,"required":false,"validation":{}},"company":{"name":"Company","type":"datasource_multi","live":true,"hidden":true,"order":0,"editable":true,"datasource_id":"company","required":false,"validation":{}},"starred_items":{"name":"starred_items","type":"datasource_multi","live":true,"hidden":true,"order":0,"editable":true,"datasource_id":"starred_items","required":false,"validation":{}},"tag_array":{"name":"Tags","type":"datasource_multi","live":true,"hidden":true,"order":0,"editable":true,"datasource_id":"tag","required":false,"validation":{}}}}}},"is_logged_in":{"data":false},"current_user":null,"currency_map":{"data":{"AUD":"$","CAD":"$","EUR":"€","GBP":"£","NZD":"$","USD":"$"}},"siteglide_constants_loaded":{"true":true},"category_array":{"data":[]},"properties":{"data":[{"name":"enabled","value":"true"},{"name":"release_date","range":{"lt":"1660274186"}},{"name":"expiry_date","range":{"gt":"1660274186"}},{"name":"slug","value":"michael-pecar"}]},"properties_records":{"data":[{"name":"enabled","value":"true"},{"name":"release_date","range":{"lt":"1660274186"}},{"name":"expiry_date","range":{"gt":"1660274186"}},{"name":"slug","value":"michael-pecar"}]},"webapp_4":{"data":{"result":{"total_entries":1,"items":[{"id":"12853","name":"Michael Pecar","properties":{"name":"Michael Pecar","slug":"michael-pecar","enabled":true,"og_desc":null,"og_type":null,"og_title":null,"meta_desc":null,"weighting":1890,"meta_title":"","expiry_date":2145916800,"release_date":1527552000,"twitter_type":null,"category_array":[],"webapp_field_4_1":"Principal Chemical Engineer","webapp_field_4_2":"images/staff/michael-pecar.png","webapp_field_4_3":"","webapp_field_4_4":"77,105,99,104,97,101,108,46,80,101,99,97,114,64,98,114,105,103,104,116,46,99,111,109,46,97,117","webapp_field_4_5":"https://www.linkedin.com/in/michael-pecar-31a41311a/","webapp_field_4_6":"","webapp_field_4_7":"","webapp_field_4_8":"

As a Principal Engineer at Bright, Michael's 30+ years experience in the food and beverage industries allow him to provide expert advice on beverages manufacturing and packaging, as well as project direction and governance expertise.  Michael has been involved in major expansions and process optimisation projects from beverage making to packaging across brewing, Cider, RTD's, Wine and Spirits.  In his time at CUB, Michael headed the company's Energy and Water efficiency programs for over a 10 year period which saw significant improvements across the company.

\n

Michael has completed a Bachelor of Engineering in Chemical Engineering at RMIT.  He has also completed a Master of Engineering at RMIT in collaboration with CSIRO on Cheese Whey manufacture.  Michael has completed regular and wide-ranging internal and external training throughout his career.

\n

Michael has managed teams both directly and indirectly, across different countries and states.  He understands successful projects are about creating the right team, and bringing them along for the journey. Michael's collaborative approach to work, desire and practical  knowledge lead to successful outcomes.

","webapp_name":"Team","webapp_slug":"team","webapp_detail":true,"webapp_detail_template":null,"webapp_detail_default_layout":"default"},"model":"webapp_4","create_date":"1572354381","last_edit_date":"1644990373","creator":null,"webapp_name":"Team","webapp_slug":"team","webapp_detail":true,"webapp_detail_template":null,"webapp_detail_default_layout":"default","slug":"michael-pecar","weighting":1890,"release_date":1527552000,"expiry_date":2145916800,"enabled":true,"category_array":[],"meta_title":"","meta_desc":null,"og_title":null,"og_desc":null,"og_type":null,"twitter_type":null,"Title":"Principal Chemical Engineer","Photo":"images/staff/michael-pecar.png","Phone Number":"","Email Address":"77,105,99,104,97,101,108,46,80,101,99,97,114,64,98,114,105,103,104,116,46,99,111,109,46,97,117","LinkedIn":"https://www.linkedin.com/in/michael-pecar-31a41311a/","meta_description":"","Item Description":"

As a Principal Engineer at Bright, Michael's 30+ years experience in the food and beverage industries allow him to provide expert advice on beverages manufacturing and packaging, as well as project direction and governance expertise.  Michael has been involved in major expansions and process optimisation projects from beverage making to packaging across brewing, Cider, RTD's, Wine and Spirits.  In his time at CUB, Michael headed the company's Energy and Water efficiency programs for over a 10 year period which saw significant improvements across the company.

\n

Michael has completed a Bachelor of Engineering in Chemical Engineering at RMIT.  He has also completed a Master of Engineering at RMIT in collaboration with CSIRO on Cheese Whey manufacture.  Michael has completed regular and wide-ranging internal and external training throughout his career.

\n

Michael has managed teams both directly and indirectly, across different countries and states.  He understands successful projects are about creating the right team, and bringing them along for the journey. Michael's collaborative approach to work, desire and practical  knowledge lead to successful outcomes.

","webapp_id":"4","full_slug":"/team/michael-pecar"}]}}}}}