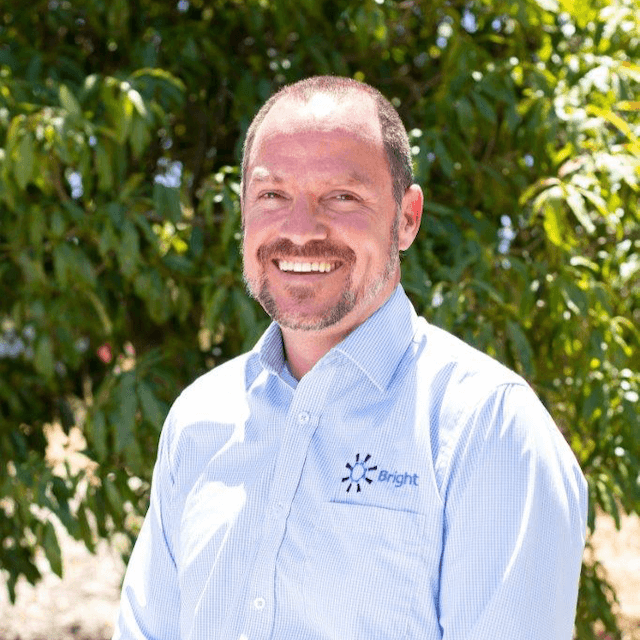 Fernando Diaz
Principal Mechanical Engineer
As a Principal Mechanical Engineer at Bright, Fernando brings over 17 years of experience in the Pharmaceutical Biologics sector. Having worked for main-stream leading Biotechnology multinational companies, both in Australia and in Europe, Fernando adds extensive experience and understanding of customer expectations from any Engineering services operating in this highly regulated environment.
Fernando also has a broad experience in mechanical services, waters generation and distributions, as well as food and beverage production design.
Fernando completed an honours degree in Mechanical Engineering at the university of Limerick in Ireland, and has completed many internal and external short courses relevant to services, cGMP and process safety including HAZOP.
With a safety mindset, a passion for engineering systems, and a pragmatic approach to problem solving, Fernando brings a proven track record in building and leading highly efficient engineering teams.
Fernando has been responsible for the delivery of several multimillion-dollar high-profile projects in the Pharma and cosmetics sectors in line with all regulatory requirements of domestic and international regulatory authorities (TGA, OGTR, FDA, IMB).
With personal interest in talent development, Fernando is always keen to learn new things as well as mentor junior engineers through their career progression.
Phone:
0416 357 775
Email:

If you need assistance in any of the areas above, please contact us now.
{"authenticity_token":"iOB22pbubEYdSbSxThLc08x4xEP8UI5/Sfxt+RCmVk4Fdnsik6kVifHXrwyp8QJLZ0ntEiVF3BAxc4n/xBfqQQ==","session":{"language":"en","_csrf_token":"RY2R2W9EKiWb3g/XlnrlG/jwJAjdD6Rwa9LmqLRRU80=","session_id":"2b9b5c5c8092313ead9dae746c2f2450"},"csrf_request_valid":true,"current_user":null,"headers":{"QUERY_STRING":"","REQUEST_METHOD":"GET","REQUEST_URI":"/team/fernando-diaz","HTTP_HOST":"www.bright.com.au","HTTP_USER_AGENT":"CCBot/2.0 (https://commoncrawl.org/faq/)","HTTP_ACCEPT_ENCODING":"br,gzip","HTTP_ACCEPT_LANGUAGE":"en-US,en;q=0.5","HTTP_IF_MODIFIED_SINCE":"Sun, 05 Dec 2021 16:53:22 GMT","HTTP_X_AMZN_TRACE_ID":"Root=1-62f5bc17-277e750a27204c32368a3bc7","HTTP_X_FORWARDED_FOR":"10.120.32.105","HTTP_X_FORWARDED_HOST":"www.bright.com.au","HTTP_X_FORWARDED_PORT":"80","HTTP_X_FORWARDED_PROTO":"https","HTTP_X_FORWARDED_SERVER":"traefik-54b894f58c-cmpq6","HTTP_X_REAL_IP":"10.120.32.105","SERVER_NAME":"www.bright.com.au","SERVER_PORT":"443","PATH_INFO":"/team/fernando-diaz","skylight.request_id":"46cfa1eb-e849-4622-b9fb-56e021868084"},"params":{"slug":"team","slug2":"fernando-diaz","format":"html"},"language":"en","environment":"production","is_xhr":false,"instance":{"id":49,"uuid":"3f730085-5509-4be7-99c9-6a716c75bb6a","name":"bright"},"location":{"url":"https://www.bright.com.au/team/fernando-diaz","href":"/team/fernando-diaz","host":"www.bright.com.au","pathname":"/team/fernando-diaz","search":{}},"page":{"id":1909,"slug":"team","enable_profiler":false,"layout":"templates/5","layout_name":"templates/5","metadata":null},"layout":{"metadata":{"id":5,"name":"Staff Template","type":"page","file_type":"template","last_edit":1645607976808,"is_default":false,"use_studio_bs5":false,"use_design_system":false}},"visitor":{"ip":"10.120.32.105"},"useragent":"CCBot/2.0 (https://commoncrawl.org/faq/)","device":{"bot":true,"bot_name":"ccBot crawler","device_brand":null,"device_name":null,"device_type":null,"full_version":null,"known":false,"name":null,"os_full_version":null,"os_name":null},"cookies":{},"version":"ef9ddd545869d1f17a64cffd600be77e2bd6a7f0-1660116858235","post_params":"","hcaptcha_site_key":"ce2a4f04-a5cf-4da6-bd8a-da2e74c8913a","modules":{"siteglide_menu":{"name":"siteglide_menu","scope_name":"siteglide_menu","version_info":{},"subscription_info":{}},"siteglide_system":{"name":"siteglide_system","scope_name":"siteglide_system","version_info":{},"subscription_info":{}},"siteglide_authors":{"name":"siteglide_authors","scope_name":"siteglide_authors","version_info":{},"subscription_info":{}},"siteglide_design_system":{"name":"siteglide_design_system","scope_name":"siteglide_design_system","version_info":{},"subscription_info":{}},"siteglide_media_downloads":{"name":"siteglide_media_downloads","scope_name":"siteglide_media_downloads","version_info":{},"subscription_info":{}},"siteglide_blog":{"name":"siteglide_blog","scope_name":"siteglide_blog","version_info":{},"subscription_info":{}}},"constants":"[FILTERED]","flash":{},"exports":{"categories":{"path":{"/home-category":"12865"},"items":{"12865":{"id":"12865","external_id":"2aae91cd-1581-4ebc-94d2-b911f25141bb","name":"Home Category","enabled":"true","parent":null,"slug":"home-category","full_slug":"/home-category","image":null,"image_alt":null,"description":null,"meta_title":null,"meta_desc":null,"og_title":null,"og_desc":null,"og_type":null,"twitter_type":null}},"data":{"12865":{"id":"12865","external_id":"2aae91cd-1581-4ebc-94d2-b911f25141bb","name":"Home Category","enabled":"true","parent":null,"slug":"home-category","full_slug":"/home-category","image":null,"image_alt":null,"description":null,"meta_title":null,"meta_desc":null,"og_title":null,"og_desc":null,"og_type":null,"twitter_type":null}}},"company_information":{"properties":{"logo":"images/logo.png","logo_white":"images/footer-logo.png","vat_number":null,"company_name":"Bright Engineering Consultants","phone_number":null,"email_address":null,"address_line_1":null,"address_line_2":null,"footer_template":"2","header_template":"1","twitter_account":null,"facebook_account":null,"linkedin_account":null,"instagram_account":null,"active_campaign_id":null,"google_analytics_id":null,"google_plus_account":null,"google_analytics_view_id":null,"google_analytics_site_verification":null}},"integrations":{"properties":{"recaptcha_site_key":"6Lfivr8UAAAAABEfXZB8ead9DZhvum9xl1kRtIWo","recaptcha_secret_key":"6Lfivr8UAAAAAJJr4_N27LTVBd-ebgv3XP03zwyU"}},"user_crm_fc":{"data":{"id":"9670","name":"user","fields":{"properties":{"address":{"name":"Address","type":"input_text","live":true,"hidden":true,"order":0,"editable":true,"required":false,"validation":{}},"company":{"name":"Company","type":"datasource_multi","live":true,"hidden":true,"order":0,"editable":true,"datasource_id":"company","required":false,"validation":{}},"starred_items":{"name":"starred_items","type":"datasource_multi","live":true,"hidden":true,"order":0,"editable":true,"datasource_id":"starred_items","required":false,"validation":{}},"tag_array":{"name":"Tags","type":"datasource_multi","live":true,"hidden":true,"order":0,"editable":true,"datasource_id":"tag","required":false,"validation":{}}}}}},"is_logged_in":{"data":false},"current_user":null,"currency_map":{"data":{"AUD":"$","CAD":"$","EUR":"€","GBP":"£","NZD":"$","USD":"$"}},"siteglide_constants_loaded":{"true":true},"category_array":{"data":[]},"properties":{"data":[{"name":"enabled","value":"true"},{"name":"release_date","range":{"lt":"1660271639"}},{"name":"expiry_date","range":{"gt":"1660271639"}},{"name":"slug","value":"fernando-diaz"}]},"properties_records":{"data":[{"name":"enabled","value":"true"},{"name":"release_date","range":{"lt":"1660271639"}},{"name":"expiry_date","range":{"gt":"1660271639"}},{"name":"slug","value":"fernando-diaz"}]},"webapp_4":{"data":{"result":{"total_entries":1,"items":[{"id":"12850","name":"Fernando Diaz","properties":{"name":"Fernando Diaz","slug":"fernando-diaz","enabled":true,"og_desc":null,"og_type":null,"og_title":null,"meta_desc":null,"weighting":1090,"meta_title":null,"expiry_date":2145916800,"release_date":1527552000,"twitter_type":null,"category_array":[],"webapp_field_4_1":"Principal Mechanical Engineer","webapp_field_4_2":"images/staff/fernando-diaz.png","webapp_field_4_3":"0416 357 775","webapp_field_4_4":"102,101,114,110,97,110,100,111,46,100,105,97,122,64,98,114,105,103,104,116,46,99,111,109,46,97,117","webapp_field_4_5":"https://www.linkedin.com/in/fernando-diaz-barajas/","webapp_field_4_6":"","webapp_field_4_7":"","webapp_field_4_8":"

As a Principal Mechanical Engineer at Bright, Fernando brings over 17 years of experience in the Pharmaceutical Biologics sector. Having worked for main-stream leading Biotechnology multinational companies, both in Australia and in Europe, Fernando adds extensive experience and understanding of customer expectations from any Engineering services operating in this highly regulated environment.

\n

Fernando also has a broad experience in mechanical services, waters generation and distributions, as well as food and beverage production design.

\n

Fernando completed an honours degree in Mechanical Engineering at the university of Limerick in Ireland, and has completed many internal and external short courses relevant to services, cGMP and process safety including HAZOP.

\n

With a safety mindset, a passion for engineering systems, and a pragmatic approach to problem solving, Fernando brings a proven track record in building and leading highly efficient engineering teams.

\n

Fernando has been responsible for the delivery of several multimillion-dollar high-profile projects in the Pharma and cosmetics sectors in line with all regulatory requirements of domestic and international regulatory authorities (TGA, OGTR, FDA, IMB).

\n

With personal interest in talent development, Fernando is always keen to learn new things as well as mentor junior engineers through their career progression.

","webapp_name":"Team","webapp_slug":"team","webapp_detail":true,"webapp_detail_template":null,"webapp_detail_default_layout":"default"},"model":"webapp_4","create_date":"1572354381","last_edit_date":"1619038835","creator":null,"webapp_name":"Team","webapp_slug":"team","webapp_detail":true,"webapp_detail_template":null,"webapp_detail_default_layout":"default","slug":"fernando-diaz","weighting":1090,"release_date":1527552000,"expiry_date":2145916800,"enabled":true,"category_array":[],"meta_title":"","meta_desc":null,"og_title":null,"og_desc":null,"og_type":null,"twitter_type":null,"Title":"Principal Mechanical Engineer","Photo":"images/staff/fernando-diaz.png","Phone Number":"0416 357 775","Email Address":"102,101,114,110,97,110,100,111,46,100,105,97,122,64,98,114,105,103,104,116,46,99,111,109,46,97,117","LinkedIn":"https://www.linkedin.com/in/fernando-diaz-barajas/","meta_description":"","Item Description":"

As a Principal Mechanical Engineer at Bright, Fernando brings over 17 years of experience in the Pharmaceutical Biologics sector. Having worked for main-stream leading Biotechnology multinational companies, both in Australia and in Europe, Fernando adds extensive experience and understanding of customer expectations from any Engineering services operating in this highly regulated environment.

\n

Fernando also has a broad experience in mechanical services, waters generation and distributions, as well as food and beverage production design.

\n

Fernando completed an honours degree in Mechanical Engineering at the university of Limerick in Ireland, and has completed many internal and external short courses relevant to services, cGMP and process safety including HAZOP.

\n

With a safety mindset, a passion for engineering systems, and a pragmatic approach to problem solving, Fernando brings a proven track record in building and leading highly efficient engineering teams.

\n

Fernando has been responsible for the delivery of several multimillion-dollar high-profile projects in the Pharma and cosmetics sectors in line with all regulatory requirements of domestic and international regulatory authorities (TGA, OGTR, FDA, IMB).

\n

With personal interest in talent development, Fernando is always keen to learn new things as well as mentor junior engineers through their career progression.

","webapp_id":"4","full_slug":"/team/fernando-diaz"}]}}}}}