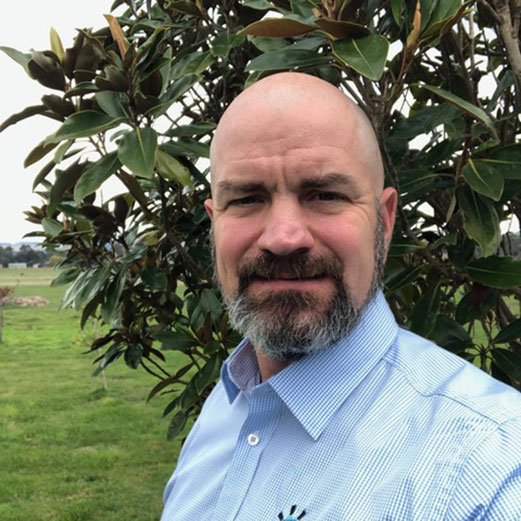 Nathan Dennis
Senior Electrical Engineer
Nathan is a Senior Electrical and Controls Engineer who has over 25 years' experience delivery complex electrical and controls projects in a variety of industries that include heavy industry, mining, life sciences, biotechnology, speciality chemical, equipment manufacturing and utilities. He has experience throughout the complete project lifecycle from concept through engineering to completion and handover.
Nathan has qualifications in Electrical and Electronic Engineering from the University of Southern Queensland and has extensive experience configuring a variety of PLC and HMI/SCADA systems and many years of AutoCAD experience. He has developed engineering, control system and drafting standards that ensures a consistently high quality of product.
Nathan is also an experienced project manager who collaborates well and can develop creative solutions to customers critical engineering, planning and scheduling needs.
Phone:
0460 297 564
Email:

If you need assistance in any of the areas above, please contact us now.
{"authenticity_token":"sEOUj9kfTqoggwsVfSokH0UM0Gj4FsxnroHVconTw0vC6cnnTA9N0ngnHPUy83cwMsX7nF6riTpIQAxZjr20rg==","session":{"language":"en","_csrf_token":"k1siguI1KvKoQ+qgubHnVaCu0t15wVsiRLXwxbmDoh8=","session_id":"d56231362b9794ce02b07a455e8f7e86"},"csrf_request_valid":true,"current_user":null,"headers":{"QUERY_STRING":"","REQUEST_METHOD":"GET","REQUEST_URI":"/team/nathan-dennis","HTTP_HOST":"www.bright.com.au","HTTP_USER_AGENT":"CCBot/2.0 (https://commoncrawl.org/faq/)","HTTP_ACCEPT_ENCODING":"br,gzip","HTTP_ACCEPT_LANGUAGE":"en-US,en;q=0.5","HTTP_X_AMZN_TRACE_ID":"Root=1-61acf8d4-1ac967144278d40d50c168e8","HTTP_X_FORWARDED_FOR":"10.120.46.195","HTTP_X_FORWARDED_HOST":"www.bright.com.au","HTTP_X_FORWARDED_PORT":"80","HTTP_X_FORWARDED_PROTO":"https","HTTP_X_FORWARDED_SERVER":"traefik-54b894f58c-cqccv","HTTP_X_REAL_IP":"10.120.46.195","SERVER_NAME":"www.bright.com.au","SERVER_PORT":"443","PATH_INFO":"/team/nathan-dennis","skylight.request_id":"e4865338-ba84-4e6a-809a-690a4ee04e12"},"params":{"slug":"team","slug2":"nathan-dennis","format":"html"},"language":"en","environment":"production","is_xhr":null,"instance":{"id":49,"uuid":"3f730085-5509-4be7-99c9-6a716c75bb6a","name":"bright"},"location":{"url":"https://www.bright.com.au/team/nathan-dennis","href":"/team/nathan-dennis","host":"www.bright.com.au","pathname":"/team/nathan-dennis","search":{}},"page":{"id":1909,"slug":"team","enable_profiler":false,"layout":"templates/5","layout_name":"templates/5","metadata":null},"layout":{"metadata":{"id":5,"name":"Staff Template","type":"page","file_type":"template","last_edit":1574158965077,"is_default":false,"use_design_system":false}},"visitor":{"ip":"10.120.32.61"},"useragent":"CCBot/2.0 (https://commoncrawl.org/faq/)","device":{"bot":true,"bot_name":"ccBot crawler","device_brand":null,"device_name":null,"device_type":null,"full_version":null,"known":false,"name":null,"os_full_version":null,"os_name":null},"cookies":{},"version":"bb467c00d66c6ba016f52b5bcae25774ecb2784c-1638560798196","post_params":"","hcaptcha_site_key":"ce2a4f04-a5cf-4da6-bd8a-da2e74c8913a","modules":{"siteglide_menu":{"name":"siteglide_menu","scope_name":"siteglide_menu","version_info":{},"subscription_info":{}},"siteglide_system":{"name":"siteglide_system","scope_name":"siteglide_system","version_info":{},"subscription_info":{}},"siteglide_authors":{"name":"siteglide_authors","scope_name":"siteglide_authors","version_info":{},"subscription_info":{}},"siteglide_design_system":{"name":"siteglide_design_system","scope_name":"siteglide_design_system","version_info":{},"subscription_info":{}},"siteglide_media_downloads":{"name":"siteglide_media_downloads","scope_name":"siteglide_media_downloads","version_info":{},"subscription_info":{}},"siteglide_blog":{"name":"siteglide_blog","scope_name":"siteglide_blog","version_info":{},"subscription_info":{}}},"constants":"[FILTERED]","flash":{},"exports":{"categories":{"path":{"/home-category":"12865"},"items":{"12865":{"id":"12865","external_id":"2aae91cd-1581-4ebc-94d2-b911f25141bb","name":"Home Category","enabled":"true","parent":null,"slug":"home-category","full_slug":"/home-category","image":null,"image_alt":null,"description":null,"meta_title":null,"meta_desc":null,"og_title":null,"og_desc":null,"og_type":null,"twitter_type":null}},"data":{"12865":{"id":"12865","external_id":"2aae91cd-1581-4ebc-94d2-b911f25141bb","name":"Home Category","enabled":"true","parent":null,"slug":"home-category","full_slug":"/home-category","image":null,"image_alt":null,"description":null,"meta_title":null,"meta_desc":null,"og_title":null,"og_desc":null,"og_type":null,"twitter_type":null}}},"company_information":{"properties":{"logo":"images/logo.png","logo_white":"images/footer-logo.png","vat_number":null,"company_name":"Bright Engineering Consultants","phone_number":null,"email_address":null,"address_line_1":null,"address_line_2":null,"footer_template":"2","header_template":"1","twitter_account":null,"facebook_account":null,"linkedin_account":null,"instagram_account":null,"active_campaign_id":null,"google_analytics_id":null,"google_plus_account":null,"google_analytics_view_id":null,"google_analytics_site_verification":null}},"integrations":{"properties":{"recaptcha_site_key":"6Lfivr8UAAAAABEfXZB8ead9DZhvum9xl1kRtIWo","recaptcha_secret_key":"6Lfivr8UAAAAAJJr4_N27LTVBd-ebgv3XP03zwyU"}},"user_crm_fc":{"data":{"id":"9670","name":"user","fields":{"properties":{"address":{"name":"Address","type":"input_text","live":true,"hidden":true,"order":0,"editable":true,"required":false,"validation":{}},"company":{"name":"Company","type":"datasource_multi","live":true,"hidden":true,"order":0,"editable":true,"datasource_id":"company","required":false,"validation":{}},"starred_items":{"name":"starred_items","type":"datasource_multi","live":true,"hidden":true,"order":0,"editable":true,"datasource_id":"starred_items","required":false,"validation":{}},"tag_array":{"name":"Tags","type":"datasource_multi","live":true,"hidden":true,"order":0,"editable":true,"datasource_id":"tag","required":false,"validation":{}}}}}},"is_logged_in":{"data":false},"current_user":null,"currency_map":{"data":{"AUD":"$","CAD":"$","EUR":"€","GBP":"£","NZD":"$","USD":"$"}},"siteglide_constants_loaded":{"true":true},"category_array":{"data":[]},"properties":{"data":[{"name":"enabled","value":"true"},{"name":"release_date","range":{"lt":"1638725844"}},{"name":"expiry_date","range":{"gt":"1638725844"}},{"name":"slug","value":"nathan-dennis"}]},"properties_records":{"data":[{"name":"enabled","value":"true"},{"name":"release_date","range":{"lt":"1638725844"}},{"name":"expiry_date","range":{"gt":"1638725844"}},{"name":"slug","value":"nathan-dennis"}]},"webapp_4":{"data":{"result":{"total_entries":1,"items":[{"id":"606205","name":"Nathan Dennis","properties":{"name":"Nathan Dennis","slug":"nathan-dennis","enabled":true,"og_desc":null,"og_type":null,"og_title":null,"meta_desc":null,"weighting":null,"meta_title":null,"expiry_date":2145916800,"release_date":1622624826,"twitter_type":null,"category_array":[],"webapp_field_4_1":"Senior Electrical Engineer","webapp_field_4_2":"images/staff/Nathan-Dennis-Profile.jpg","webapp_field_4_3":"0460 297 564","webapp_field_4_4":"110,97,116,104,97,110,46,100,101,110,110,105,115,64,98,114,105,103,104,116,46,99,111,109,46,97,117","webapp_field_4_5":"https://linkedin.com/in/nathan-dennis-1022562b","webapp_field_4_6":"Nathan Dennis","webapp_field_4_7":"","webapp_field_4_8":"

Nathan is a Senior Electrical and Controls Engineer who has over 25 years' experience delivery complex electrical and controls projects in a variety of industries that include heavy industry, mining, life sciences, biotechnology, speciality chemical, equipment manufacturing and utilities. He has experience throughout the complete project lifecycle from concept through engineering to completion and handover.\n

\n

Nathan has qualifications in Electrical and Electronic Engineering from the University of Southern Queensland and has extensive experience configuring a variety of PLC and HMI/SCADA systems and many years of AutoCAD experience. He has developed engineering, control system and drafting standards that ensures a consistently high quality of product.\n

\n

Nathan is also an experienced project manager who collaborates well and can develop creative solutions to customers critical engineering, planning and scheduling needs.

","webapp_name":"Team","webapp_slug":"team","webapp_detail":true,"webapp_detail_template":null,"webapp_detail_default_layout":"default"},"model":"webapp_4","create_date":"1622624850","last_edit_date":"1623833250","creator":null,"webapp_name":"Team","webapp_slug":"team","webapp_detail":true,"webapp_detail_template":null,"webapp_detail_default_layout":"default","slug":"nathan-dennis","weighting":null,"release_date":1622624826,"expiry_date":2145916800,"enabled":true,"category_array":[],"meta_title":"Nathan Dennis","meta_desc":null,"og_title":null,"og_desc":null,"og_type":null,"twitter_type":null,"Title":"Senior Electrical Engineer","Photo":"images/staff/Nathan-Dennis-Profile.jpg","Phone Number":"0460 297 564","Email Address":"110,97,116,104,97,110,46,100,101,110,110,105,115,64,98,114,105,103,104,116,46,99,111,109,46,97,117","LinkedIn":"https://linkedin.com/in/nathan-dennis-1022562b","meta_description":"","Item Description":"

Nathan is a Senior Electrical and Controls Engineer who has over 25 years' experience delivery complex electrical and controls projects in a variety of industries that include heavy industry, mining, life sciences, biotechnology, speciality chemical, equipment manufacturing and utilities. He has experience throughout the complete project lifecycle from concept through engineering to completion and handover.\n

\n

Nathan has qualifications in Electrical and Electronic Engineering from the University of Southern Queensland and has extensive experience configuring a variety of PLC and HMI/SCADA systems and many years of AutoCAD experience. He has developed engineering, control system and drafting standards that ensures a consistently high quality of product.\n

\n

Nathan is also an experienced project manager who collaborates well and can develop creative solutions to customers critical engineering, planning and scheduling needs.

","webapp_id":"4","full_slug":"/team/nathan-dennis"}]}}}}}