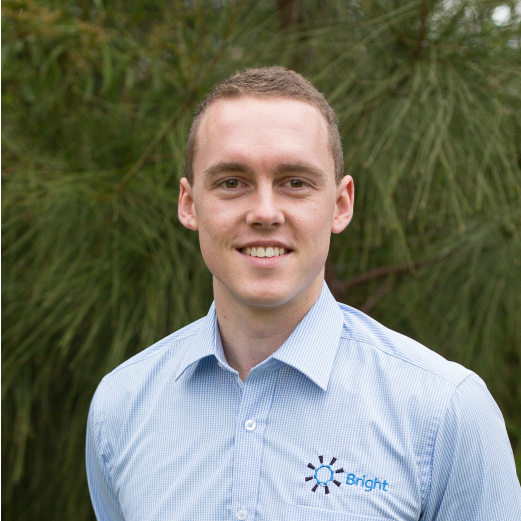 Lee Schultz
Graduate Mechanical Engineer
Lee began working at Bright as an undergraduate during his final year of university studies. Following completion of his degree in 2018 and continuing with Bright as a Graduate Engineer, Lee has been engaged in a number of projects involving processing and packaging systems, mechanical design tasks, and minor project management works.
Lee completed a Mechanical and Mechatronic Engineering degree with Honours at the University of South Australia. Whilst studying at university Lee obtained a white card and during multiple student placements he acquired experience in packaging, production tracking, and designing for manufacture.
Lee has experiences in food and beverage in a range of aspects, working both independently and collaboratively to deliver innovative solutions for clients.
Phone:
(08) 7100 1122
Email:

If you need assistance in any of the areas above, please contact us now.
{"authenticity_token":"S55GFgAoN5q87UwA3aCQqhqMbbC7vsqm7B+SQ6gdiRStEM8b1MhtVNiaLU9BHBaGy6FXv2vvaTyOVXFOjgtiwQ==","session":{"session_id":"c427ead876fb0b1ceaa8dd866e1e073b","language":"en"},"current_user":null,"headers":{"QUERY_STRING":"","REQUEST_METHOD":"GET","REQUEST_URI":"/team/lee-schultz","HTTP_X_FORWARDED_PROTO":"https","HTTP_X_FORWARDED_FOR":"3.228.11.9, 3.228.11.9","HTTP_X_REQUEST_START":"t=1597410643.875","HTTP_HOST":"www.bright.com.au","HTTP_X_FORWARDED_PORT":"443","HTTP_X_AMZN_TRACE_ID":"Root=1-5f368d53-30a5364873fa015ac86a2f28","HTTP_USER_AGENT":"CCBot/2.0 (https://commoncrawl.org/faq/)","HTTP_ACCEPT_LANGUAGE":"en-US,en;q=0.5","SERVER_NAME":"www.bright.com.au","SERVER_PORT":"443","PATH_INFO":"/team/lee-schultz","skylight.request_id":"09da34c6-84d7-4b43-87b9-2b631bf6afc3"},"params":{"slug":"team","slug2":"lee-schultz","format":"html"},"language":"en","environment":"production","is_xhr":null,"location":{"url":"https://www.bright.com.au/team/lee-schultz","href":"/team/lee-schultz","host":"www.bright.com.au","pathname":"/team/lee-schultz","search":{}},"page":{"id":1909,"slug":"team","enable_profiler":false,"layout":"templates/5","layout_name":"templates/5","metadata":null},"layout":{"metadata":{"id":5,"name":"Staff Template","type":"page","file_type":"template","last_edit":1574158965077,"is_default":false,"use_design_system":false}},"modules":{"siteglide_menu":{"name":"siteglide_menu","scope_name":"siteglide_menu","version_info":{},"subscription_info":{}},"siteglide_system":{"name":"siteglide_system","scope_name":"siteglide_system","version_info":{},"subscription_info":{}},"siteglide_authors":{"name":"siteglide_authors","scope_name":"siteglide_authors","version_info":{},"subscription_info":{}},"siteglide_design_system":{"name":"siteglide_design_system","scope_name":"siteglide_design_system","version_info":{},"subscription_info":{}},"siteglide_media_downloads":{"name":"siteglide_media_downloads","scope_name":"siteglide_media_downloads","version_info":{},"subscription_info":{}}},"visitor":{"ip":"3.228.11.9"},"constants":"[FILTERED]","useragent":"CCBot/2.0 (https://commoncrawl.org/faq/)","device":{"bot":true,"bot_name":"ccBot crawler","device_brand":null,"device_name":null,"device_type":null,"full_version":null,"known":false,"name":null,"os_full_version":null,"os_name":null},"cookies":{},"version":"72c06334a680248f12fa0b5188cadf1c43aad9a0","post_params":"","flash":{},"exports":{"categories":{"path":{"/home-category":"12865"},"items":{"12865":{"id":"12865","external_id":"2aae91cd-1581-4ebc-94d2-b911f25141bb","name":"Home Category","parent":null,"slug":"home-category","full_slug":"/home-category","image":null,"description":null,"meta_title":null,"meta_desc":null,"og_title":null,"og_desc":null,"og_type":null,"twitter_type":null}},"data":{"12865":{"id":"12865","external_id":"2aae91cd-1581-4ebc-94d2-b911f25141bb","name":"Home Category","parent":null,"slug":"home-category","full_slug":"/home-category","image":null,"description":null,"meta_title":null,"meta_desc":null,"og_title":null,"og_desc":null,"og_type":null,"twitter_type":null}}},"company_information":{"properties":{"logo":"images/logo.png","logo_white":"images/footer-logo.png","company_name":"Bright Engineering Consultants","footer_template":"2","header_template":"1"}},"integrations":{"properties":{"recaptcha_site_key":"6Lfivr8UAAAAABEfXZB8ead9DZhvum9xl1kRtIWo","recaptcha_secret_key":"6Lfivr8UAAAAAJJr4_N27LTVBd-ebgv3XP03zwyU"}},"is_logged_in":{"data":false},"currency_map":{"data":{"AUD":"$","CAD":"$","EUR":"€","GBP":"£","NZD":"$","USD":"$"}},"siteglide_constants_loaded":{"true":true},"category_array":{"data":[]},"properties":{"data":[{"name":"enabled","value":"true"},{"name":"release_date","range":{"lt":"1597410643"}},{"name":"expiry_date","range":{"gt":"1597410643"}},{"name":"slug","value":"lee-schultz"}]},"webapp_4":{"data":{"result":{"total_entries":1,"items":[{"id":"12845","name":"Lee Schultz","properties":{"name":"Lee Schultz","slug":"lee-schultz","enabled":true,"meta_desc":"Lee began working at Bright as an undergraduate during his final year of university studies. Following completion of his degree in 2018 and continuing with Bright as a Graduate Engineer, Lee has been engaged in a number of projects involving processing and packaging systems, mechanical design tasks, and minor project management works.","weighting":1000,"meta_title":"Lee Schultz","expiry_date":2145916800,"release_date":1526515200,"webapp_field_4_1":"Graduate Mechanical Engineer","webapp_field_4_2":"images/staff/Lee-Schulz.png","webapp_field_4_3":"(08) 7100 1122","webapp_field_4_4":"108,101,101,46,115,99,104,117,108,116,122,64,98,114,105,103,104,116,46,99,111,109,46,97,117","webapp_field_4_5":"https://www.linkedin.com/in/lee-schultz-a49b659b/","webapp_field_4_6":"Lee Schultz","webapp_field_4_8":"

Lee began working at Bright as an undergraduate during his final year of university studies. Following completion of his degree in 2018 and continuing with Bright as a Graduate Engineer, Lee has been engaged in a number of projects involving processing and packaging systems, mechanical design tasks, and minor project management works.

\n

Lee completed a Mechanical and Mechatronic Engineering degree with Honours at the University of South Australia. Whilst studying at university Lee obtained a white card and during multiple student placements he acquired experience in packaging, production tracking, and designing for manufacture.

\n

Lee has experiences in food and beverage in a range of aspects, working both independently and collaboratively to deliver innovative solutions for clients.

","webapp_name":"Team","webapp_slug":"team","webapp_detail":true,"webapp_detail_template":null,"webapp_detail_default_layout":"default","category_array":null,"og_title":null,"og_desc":null,"og_type":null,"twitter_type":null,"webapp_field_4_7":""},"model":"webapp_4","create_date":"1572354381","last_edit_date":"1573784936","creator":null,"webapp_name":"Team","webapp_slug":"team","webapp_detail":true,"webapp_detail_template":null,"webapp_detail_default_layout":"default","slug":"lee-schultz","weighting":1000,"release_date":1526515200,"expiry_date":2145916800,"enabled":true,"category_array":null,"meta_title":"Lee Schultz","meta_desc":"Lee began working at Bright as an undergraduate during his final year of university studies. Following completion of his degree in 2018 and continuing with Bright as a Graduate Engineer, Lee has been engaged in a number of projects involving processing and packaging systems, mechanical design tasks, and minor project management works.","og_title":null,"og_desc":null,"og_type":null,"twitter_type":null,"Title":"Graduate Mechanical Engineer","Photo":"images/staff/Lee-Schulz.png","Phone Number":"(08) 7100 1122","Email Address":"108,101,101,46,115,99,104,117,108,116,122,64,98,114,105,103,104,116,46,99,111,109,46,97,117","LinkedIn":"https://www.linkedin.com/in/lee-schultz-a49b659b/","meta_description":"","Item Description":"

Lee began working at Bright as an undergraduate during his final year of university studies. Following completion of his degree in 2018 and continuing with Bright as a Graduate Engineer, Lee has been engaged in a number of projects involving processing and packaging systems, mechanical design tasks, and minor project management works.

\n

Lee completed a Mechanical and Mechatronic Engineering degree with Honours at the University of South Australia. Whilst studying at university Lee obtained a white card and during multiple student placements he acquired experience in packaging, production tracking, and designing for manufacture.

\n

Lee has experiences in food and beverage in a range of aspects, working both independently and collaboratively to deliver innovative solutions for clients.

","webapp_id":"4","full_slug":"/team/lee-schultz"}]},"fc":{"items":[{"name":"webapp_4","configuration":{"properties":{"webapp_name":{"name":"webapp_name","value":"Team","property_options":{"virtual":true}},"webapp_slug":{"name":"webapp_slug","value":"team","property_options":{"virtual":true}},"webapp_detail":{"name":"webapp_detail","value":true,"property_options":{"virtual":true}},"webapp_detail_template":{"name":"webapp_detail_template","value":"templates/5","property_options":{"virtual":true}},"webapp_detail_default_layout":{"name":"webapp_detail_default_layout","value":"default","property_options":{"virtual":true}},"name":{"name":"name","type":"string"},"slug":{"name":"slug","type":"string"},"weighting":{"name":"weighting","type":"integer"},"release_date":{"name":"release_date","type":"integer"},"expiry_date":{"name":"expiry_date","type":"integer"},"enabled":{"name":"enabled","type":"boolean"},"category_array":{"name":"category_array","type":"array"},"meta_title":{"name":"meta_title","type":"string"},"meta_desc":{"name":"meta_desc","type":"string"},"og_title":{"name":"og_title","type":"string"},"og_desc":{"name":"og_desc","type":"string"},"og_type":{"name":"og_type","type":"string"},"twitter_type":{"name":"twitter_type","type":"string"},"webapp_field_4_1":{"name":"Title","type":"input_text","live":true,"hidden":false,"order":1,"editable":true,"required":false,"validation":{}},"webapp_field_4_2":{"name":"Photo","type":"image","live":true,"hidden":false,"order":2,"editable":true,"required":false,"validation":{}},"webapp_field_4_3":{"name":"Phone Number","type":"input_text","live":true,"hidden":false,"order":3,"editable":true,"required":false,"validation":{}},"webapp_field_4_4":{"name":"Email Address","type":"input_text","live":true,"hidden":false,"order":4,"editable":true,"required":false,"validation":{}},"webapp_field_4_5":{"name":"LinkedIn","type":"input_text","live":true,"hidden":false,"order":5,"editable":true,"required":false,"validation":{}},"webapp_field_4_6":{"name":"meta_title","type":"input_text","live":true,"hidden":false,"order":6,"editable":true,"required":false,"validation":{}},"webapp_field_4_7":{"name":"meta_description","type":"textarea","live":true,"hidden":false,"order":7,"editable":true,"rich_text":false,"required":false,"validation":{}},"webapp_field_4_8":{"name":"Item Description","type":"textarea","live":true,"hidden":false,"order":8,"editable":true,"rich_text":true,"required":false,"validation":{}}}}}]}}}}}