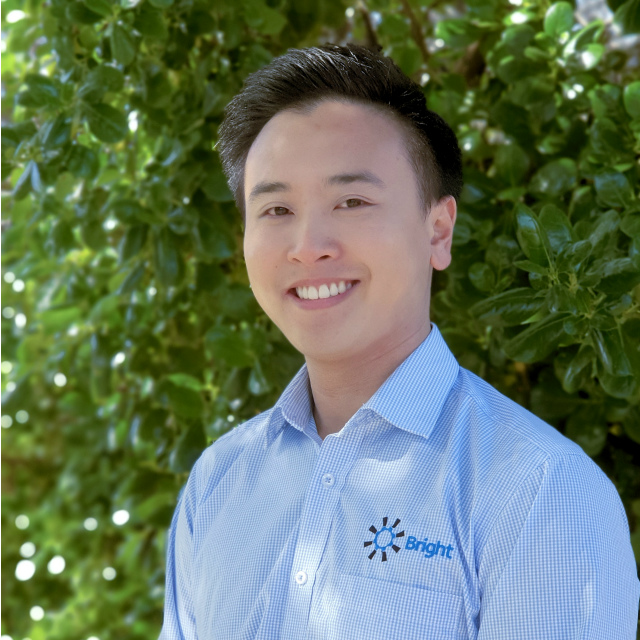 Brendan Yu
Graduate Engineer
Brendan completed his university placement with Bright and completed design work on a waste water treatment plant. After graduation, he joined Bright and has worked on design projects, including site work and minor project management.
Brendan completed a Chemical Engineering and Biomedical Sciences degree with Honours at Monash University, and has recently completed the General Certificate in Brewing with the IBD which he passed with honours.
Brendan's experience is predominantly in brewing and beverages manufacture, as well as ancillary services including water and air supplies, and waste water removal and treatment. Brendan is a skilled problem solver and is dedicated to finding a solution that best suits your needs.
Phone:
0478 106 469
Email:

If you need assistance in any of the areas above, please contact us now.
{"authenticity_token":"IgEP7DoXq+lztzWaEHYbuB9evfYv2c5qf4FTfkfg2+uL5trP2mq6agktPywqD/DLg7um2zJo3rC2Un1cW8RlEw==","session":{"language":"en","_csrf_token":"9Y50SoHaIxfvDgnz8SfehfdOTBsDOMsmFPceNaLqoNI=","session_id":"ed3d03809459852b0345e7643e5e8ef4"},"csrf_request_valid":true,"current_user":null,"headers":{"QUERY_STRING":"","REQUEST_METHOD":"GET","REQUEST_URI":"/team/brendan-yu","HTTP_HOST":"www.bright.com.au","HTTP_USER_AGENT":"CCBot/2.0 (https://commoncrawl.org/faq/)","HTTP_ACCEPT_ENCODING":"br,gzip","HTTP_ACCEPT_LANGUAGE":"en-US,en;q=0.5","HTTP_X_AMZN_TRACE_ID":"Root=1-61acf8ba-5c2c7ab16e7b2fee3e6448fb","HTTP_X_FORWARDED_FOR":"10.120.39.2","HTTP_X_FORWARDED_HOST":"www.bright.com.au","HTTP_X_FORWARDED_PORT":"80","HTTP_X_FORWARDED_PROTO":"https","HTTP_X_FORWARDED_SERVER":"traefik-54b894f58c-cqccv","HTTP_X_REAL_IP":"10.120.39.2","SERVER_NAME":"www.bright.com.au","SERVER_PORT":"443","PATH_INFO":"/team/brendan-yu","skylight.request_id":"038cbd29-fb8e-4b46-b603-fc068a090a8e"},"params":{"slug":"team","slug2":"brendan-yu","format":"html"},"language":"en","environment":"production","is_xhr":null,"instance":{"id":49,"uuid":"3f730085-5509-4be7-99c9-6a716c75bb6a","name":"bright"},"location":{"url":"https://www.bright.com.au/team/brendan-yu","href":"/team/brendan-yu","host":"www.bright.com.au","pathname":"/team/brendan-yu","search":{}},"page":{"id":1909,"slug":"team","enable_profiler":false,"layout":"templates/5","layout_name":"templates/5","metadata":null},"layout":{"metadata":{"id":5,"name":"Staff Template","type":"page","file_type":"template","last_edit":1574158965077,"is_default":false,"use_design_system":false}},"visitor":{"ip":"10.120.32.61"},"useragent":"CCBot/2.0 (https://commoncrawl.org/faq/)","device":{"bot":true,"bot_name":"ccBot crawler","device_brand":null,"device_name":null,"device_type":null,"full_version":null,"known":false,"name":null,"os_full_version":null,"os_name":null},"cookies":{},"version":"bb467c00d66c6ba016f52b5bcae25774ecb2784c-1638560798196","post_params":"","hcaptcha_site_key":"ce2a4f04-a5cf-4da6-bd8a-da2e74c8913a","modules":{"siteglide_menu":{"name":"siteglide_menu","scope_name":"siteglide_menu","version_info":{},"subscription_info":{}},"siteglide_system":{"name":"siteglide_system","scope_name":"siteglide_system","version_info":{},"subscription_info":{}},"siteglide_authors":{"name":"siteglide_authors","scope_name":"siteglide_authors","version_info":{},"subscription_info":{}},"siteglide_design_system":{"name":"siteglide_design_system","scope_name":"siteglide_design_system","version_info":{},"subscription_info":{}},"siteglide_media_downloads":{"name":"siteglide_media_downloads","scope_name":"siteglide_media_downloads","version_info":{},"subscription_info":{}},"siteglide_blog":{"name":"siteglide_blog","scope_name":"siteglide_blog","version_info":{},"subscription_info":{}}},"constants":"[FILTERED]","flash":{},"exports":{"categories":{"path":{"/home-category":"12865"},"items":{"12865":{"id":"12865","external_id":"2aae91cd-1581-4ebc-94d2-b911f25141bb","name":"Home Category","enabled":"true","parent":null,"slug":"home-category","full_slug":"/home-category","image":null,"image_alt":null,"description":null,"meta_title":null,"meta_desc":null,"og_title":null,"og_desc":null,"og_type":null,"twitter_type":null}},"data":{"12865":{"id":"12865","external_id":"2aae91cd-1581-4ebc-94d2-b911f25141bb","name":"Home Category","enabled":"true","parent":null,"slug":"home-category","full_slug":"/home-category","image":null,"image_alt":null,"description":null,"meta_title":null,"meta_desc":null,"og_title":null,"og_desc":null,"og_type":null,"twitter_type":null}}},"company_information":{"properties":{"logo":"images/logo.png","logo_white":"images/footer-logo.png","vat_number":null,"company_name":"Bright Engineering Consultants","phone_number":null,"email_address":null,"address_line_1":null,"address_line_2":null,"footer_template":"2","header_template":"1","twitter_account":null,"facebook_account":null,"linkedin_account":null,"instagram_account":null,"active_campaign_id":null,"google_analytics_id":null,"google_plus_account":null,"google_analytics_view_id":null,"google_analytics_site_verification":null}},"integrations":{"properties":{"recaptcha_site_key":"6Lfivr8UAAAAABEfXZB8ead9DZhvum9xl1kRtIWo","recaptcha_secret_key":"6Lfivr8UAAAAAJJr4_N27LTVBd-ebgv3XP03zwyU"}},"user_crm_fc":{"data":{"id":"9670","name":"user","fields":{"properties":{"address":{"name":"Address","type":"input_text","live":true,"hidden":true,"order":0,"editable":true,"required":false,"validation":{}},"company":{"name":"Company","type":"datasource_multi","live":true,"hidden":true,"order":0,"editable":true,"datasource_id":"company","required":false,"validation":{}},"starred_items":{"name":"starred_items","type":"datasource_multi","live":true,"hidden":true,"order":0,"editable":true,"datasource_id":"starred_items","required":false,"validation":{}},"tag_array":{"name":"Tags","type":"datasource_multi","live":true,"hidden":true,"order":0,"editable":true,"datasource_id":"tag","required":false,"validation":{}}}}}},"is_logged_in":{"data":false},"current_user":null,"currency_map":{"data":{"AUD":"$","CAD":"$","EUR":"€","GBP":"£","NZD":"$","USD":"$"}},"siteglide_constants_loaded":{"true":true},"category_array":{"data":[]},"properties":{"data":[{"name":"enabled","value":"true"},{"name":"release_date","range":{"lt":"1638725819"}},{"name":"expiry_date","range":{"gt":"1638725819"}},{"name":"slug","value":"brendan-yu"}]},"properties_records":{"data":[{"name":"enabled","value":"true"},{"name":"release_date","range":{"lt":"1638725819"}},{"name":"expiry_date","range":{"gt":"1638725819"}},{"name":"slug","value":"brendan-yu"}]},"webapp_4":{"data":{"result":{"total_entries":1,"items":[{"id":"606179","name":"Brendan Yu","properties":{"name":"Brendan Yu","slug":"brendan-yu","enabled":true,"og_desc":null,"og_type":null,"og_title":null,"meta_desc":null,"weighting":null,"meta_title":null,"expiry_date":2145916800,"release_date":1597483241,"twitter_type":null,"category_array":[],"webapp_field_4_1":"Graduate Engineer","webapp_field_4_2":"images/staff/BrendanYu.jpg","webapp_field_4_3":"0478 106 469","webapp_field_4_4":"98,114,101,110,100,97,110,46,121,117,64,98,114,105,103,104,116,46,99,111,109,46,97,117","webapp_field_4_5":"","webapp_field_4_6":"","webapp_field_4_7":"","webapp_field_4_8":"

Brendan completed his university placement with Bright and completed design work on a waste water treatment plant.  After graduation, he joined Bright and has worked on design projects, including site work and minor project management.

\n

Brendan completed a Chemical Engineering and Biomedical Sciences degree with Honours at Monash University, and has recently completed the General Certificate in Brewing with the IBD which he passed with honours.

\n

Brendan's experience is predominantly in brewing and beverages manufacture, as well as ancillary services including water and air supplies, and waste water removal and treatment. Brendan is a skilled problem solver and is dedicated to finding a solution that best suits your needs.

","webapp_name":"Team","webapp_slug":"team","webapp_detail":true,"webapp_detail_template":null,"webapp_detail_default_layout":"default"},"model":"webapp_4","create_date":"1597483263","last_edit_date":"1619038835","creator":null,"webapp_name":"Team","webapp_slug":"team","webapp_detail":true,"webapp_detail_template":null,"webapp_detail_default_layout":"default","slug":"brendan-yu","weighting":null,"release_date":1597483241,"expiry_date":2145916800,"enabled":true,"category_array":[],"meta_title":"","meta_desc":null,"og_title":null,"og_desc":null,"og_type":null,"twitter_type":null,"Title":"Graduate Engineer","Photo":"images/staff/BrendanYu.jpg","Phone Number":"0478 106 469","Email Address":"98,114,101,110,100,97,110,46,121,117,64,98,114,105,103,104,116,46,99,111,109,46,97,117","LinkedIn":"","meta_description":"","Item Description":"

Brendan completed his university placement with Bright and completed design work on a waste water treatment plant.  After graduation, he joined Bright and has worked on design projects, including site work and minor project management.

\n

Brendan completed a Chemical Engineering and Biomedical Sciences degree with Honours at Monash University, and has recently completed the General Certificate in Brewing with the IBD which he passed with honours.

\n

Brendan's experience is predominantly in brewing and beverages manufacture, as well as ancillary services including water and air supplies, and waste water removal and treatment. Brendan is a skilled problem solver and is dedicated to finding a solution that best suits your needs.

","webapp_id":"4","full_slug":"/team/brendan-yu"}]}}}}}