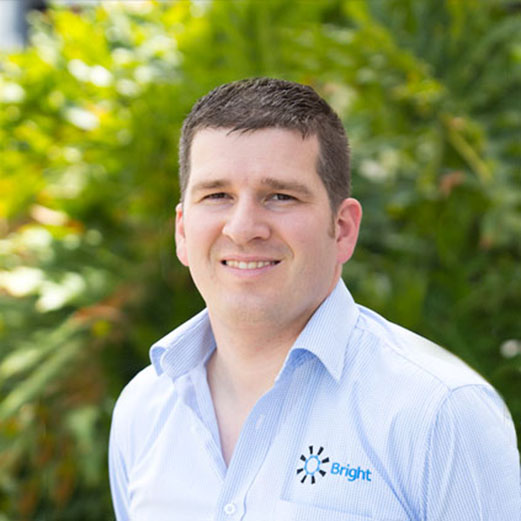 Anton Gurd
Senior Mechanical Engineer
As a Senior Engineer at Bright, Anton's 10 years experience in the food and beverage industries provide significant depth across multiple categories including beverages, baking, meats and snacks. Anton also has great hands-on experience from machine building to line commissioning.
Anton completed a Mechanical and Manufacturing engineering degree at the University of South Australia. He has also completed technical courses in Gas Tungsten Arc Welding and Stainless Steel properties and use.
He has a strong work ethic, and desire to see projects through to completion, including the practical aspects of commissioning and tuning. His colaborative approach allows him to gather real insight from those he works with deliver the same in return through training and instruction.
Anton received the Dynek Prize for Robotics in 2008, and he has led multiple projects that have received internal recognition. He regularly provides internal training and support for other engineers.
Phone:
(08) 7100 1122
Email:

If you need assistance in any of the areas above, please contact us now.
{"authenticity_token":"8zHrqHSfTnNhxgq1Xrkx7JNNSlVcDCPjE9AmAj7BMXdu/8STLL35X/EYkg+JerNOyK07XHXtBSREDN+iCzYQ0w==","session":{"language":"en","_csrf_token":"a20/A/zjpvsO2T6PxKfGkXRnWotemwTQkf7vHvLJKGE=","session_id":"d9c289c77812228f082798bf96d4528a"},"csrf_request_valid":true,"current_user":null,"headers":{"QUERY_STRING":"","REQUEST_METHOD":"GET","REQUEST_URI":"/team/anton-gurd","HTTP_HOST":"www.bright.com.au","HTTP_USER_AGENT":"CCBot/2.0 (https://commoncrawl.org/faq/)","HTTP_ACCEPT_ENCODING":"br,gzip","HTTP_ACCEPT_LANGUAGE":"en-US,en;q=0.5","HTTP_X_AMZN_TRACE_ID":"Root=1-61acfdc3-1a78433d0d306bba0161bcfd","HTTP_X_FORWARDED_FOR":"10.120.6.116","HTTP_X_FORWARDED_HOST":"www.bright.com.au","HTTP_X_FORWARDED_PORT":"80","HTTP_X_FORWARDED_PROTO":"https","HTTP_X_FORWARDED_SERVER":"traefik-54b894f58c-z2j8x","HTTP_X_REAL_IP":"10.120.6.116","SERVER_NAME":"www.bright.com.au","SERVER_PORT":"443","PATH_INFO":"/team/anton-gurd","skylight.request_id":"1f278195-2fe9-4ea7-82c2-b4460cca5f60"},"params":{"slug":"team","slug2":"anton-gurd","format":"html"},"language":"en","environment":"production","is_xhr":null,"instance":{"id":49,"uuid":"3f730085-5509-4be7-99c9-6a716c75bb6a","name":"bright"},"location":{"url":"https://www.bright.com.au/team/anton-gurd","href":"/team/anton-gurd","host":"www.bright.com.au","pathname":"/team/anton-gurd","search":{}},"page":{"id":1909,"slug":"team","enable_profiler":false,"layout":"templates/5","layout_name":"templates/5","metadata":null},"layout":{"metadata":{"id":5,"name":"Staff Template","type":"page","file_type":"template","last_edit":1574158965077,"is_default":false,"use_design_system":false}},"visitor":{"ip":"10.120.1.121"},"useragent":"CCBot/2.0 (https://commoncrawl.org/faq/)","device":{"bot":true,"bot_name":"ccBot crawler","device_brand":null,"device_name":null,"device_type":null,"full_version":null,"known":false,"name":null,"os_full_version":null,"os_name":null},"cookies":{},"version":"bb467c00d66c6ba016f52b5bcae25774ecb2784c-1638560798196","post_params":"","hcaptcha_site_key":"ce2a4f04-a5cf-4da6-bd8a-da2e74c8913a","modules":{"siteglide_menu":{"name":"siteglide_menu","scope_name":"siteglide_menu","version_info":{},"subscription_info":{}},"siteglide_system":{"name":"siteglide_system","scope_name":"siteglide_system","version_info":{},"subscription_info":{}},"siteglide_authors":{"name":"siteglide_authors","scope_name":"siteglide_authors","version_info":{},"subscription_info":{}},"siteglide_design_system":{"name":"siteglide_design_system","scope_name":"siteglide_design_system","version_info":{},"subscription_info":{}},"siteglide_media_downloads":{"name":"siteglide_media_downloads","scope_name":"siteglide_media_downloads","version_info":{},"subscription_info":{}},"siteglide_blog":{"name":"siteglide_blog","scope_name":"siteglide_blog","version_info":{},"subscription_info":{}}},"constants":"[FILTERED]","flash":{},"exports":{"categories":{"path":{"/home-category":"12865"},"items":{"12865":{"id":"12865","external_id":"2aae91cd-1581-4ebc-94d2-b911f25141bb","name":"Home Category","enabled":"true","parent":null,"slug":"home-category","full_slug":"/home-category","image":null,"image_alt":null,"description":null,"meta_title":null,"meta_desc":null,"og_title":null,"og_desc":null,"og_type":null,"twitter_type":null}},"data":{"12865":{"id":"12865","external_id":"2aae91cd-1581-4ebc-94d2-b911f25141bb","name":"Home Category","enabled":"true","parent":null,"slug":"home-category","full_slug":"/home-category","image":null,"image_alt":null,"description":null,"meta_title":null,"meta_desc":null,"og_title":null,"og_desc":null,"og_type":null,"twitter_type":null}}},"company_information":{"properties":{"logo":"images/logo.png","logo_white":"images/footer-logo.png","vat_number":null,"company_name":"Bright Engineering Consultants","phone_number":null,"email_address":null,"address_line_1":null,"address_line_2":null,"footer_template":"2","header_template":"1","twitter_account":null,"facebook_account":null,"linkedin_account":null,"instagram_account":null,"active_campaign_id":null,"google_analytics_id":null,"google_plus_account":null,"google_analytics_view_id":null,"google_analytics_site_verification":null}},"integrations":{"properties":{"recaptcha_site_key":"6Lfivr8UAAAAABEfXZB8ead9DZhvum9xl1kRtIWo","recaptcha_secret_key":"6Lfivr8UAAAAAJJr4_N27LTVBd-ebgv3XP03zwyU"}},"user_crm_fc":{"data":{"id":"9670","name":"user","fields":{"properties":{"address":{"name":"Address","type":"input_text","live":true,"hidden":true,"order":0,"editable":true,"required":false,"validation":{}},"company":{"name":"Company","type":"datasource_multi","live":true,"hidden":true,"order":0,"editable":true,"datasource_id":"company","required":false,"validation":{}},"starred_items":{"name":"starred_items","type":"datasource_multi","live":true,"hidden":true,"order":0,"editable":true,"datasource_id":"starred_items","required":false,"validation":{}},"tag_array":{"name":"Tags","type":"datasource_multi","live":true,"hidden":true,"order":0,"editable":true,"datasource_id":"tag","required":false,"validation":{}}}}}},"is_logged_in":{"data":false},"current_user":null,"currency_map":{"data":{"AUD":"$","CAD":"$","EUR":"€","GBP":"£","NZD":"$","USD":"$"}},"siteglide_constants_loaded":{"true":true},"category_array":{"data":[]},"properties":{"data":[{"name":"enabled","value":"true"},{"name":"release_date","range":{"lt":"1638727107"}},{"name":"expiry_date","range":{"gt":"1638727107"}},{"name":"slug","value":"anton-gurd"}]},"properties_records":{"data":[{"name":"enabled","value":"true"},{"name":"release_date","range":{"lt":"1638727107"}},{"name":"expiry_date","range":{"gt":"1638727107"}},{"name":"slug","value":"anton-gurd"}]},"webapp_4":{"data":{"result":{"total_entries":1,"items":[{"id":"12847","name":"Anton Gurd","properties":{"name":"Anton Gurd","slug":"anton-gurd","enabled":true,"og_desc":null,"og_type":null,"og_title":null,"meta_desc":null,"weighting":1900,"meta_title":"Anton Gurd","expiry_date":2145916800,"release_date":1526083200,"twitter_type":null,"category_array":[],"webapp_field_4_1":"Senior Mechanical Engineer","webapp_field_4_2":"images/staff/anton-gurd.jpg","webapp_field_4_3":"(08) 7100 1122","webapp_field_4_4":"97,110,116,111,110,46,103,117,114,100,64,98,114,105,103,104,116,46,99,111,109,46,97,117","webapp_field_4_5":"https://www.linkedin.com/in/antongurd","webapp_field_4_6":"Anton Gurd","webapp_field_4_7":"","webapp_field_4_8":"

As a Senior Engineer at Bright, Anton's 10 years experience in the food and beverage industries provide significant depth across multiple categories including beverages, baking, meats and snacks.  Anton also has great hands-on experience from machine building to line commissioning.\n

Anton completed a Mechanical and Manufacturing engineering degree at the University of South Australia.  He has also completed technical courses in Gas Tungsten Arc Welding and Stainless Steel properties and use.\n

He has a strong work ethic, and desire to see projects through to completion, including the practical aspects of commissioning and tuning.  His colaborative approach allows him to gather real insight from those he works with deliver the same in return through training and instruction.\n

Anton received the Dynek Prize for Robotics in 2008, and he has led multiple projects that have received internal recognition.  He regularly provides internal training and support for other engineers.

","webapp_name":"Team","webapp_slug":"team","webapp_detail":true,"webapp_detail_template":null,"webapp_detail_default_layout":"default"},"model":"webapp_4","create_date":"1572354381","last_edit_date":"1619038832","creator":null,"webapp_name":"Team","webapp_slug":"team","webapp_detail":true,"webapp_detail_template":null,"webapp_detail_default_layout":"default","slug":"anton-gurd","weighting":1900,"release_date":1526083200,"expiry_date":2145916800,"enabled":true,"category_array":[],"meta_title":"Anton Gurd","meta_desc":null,"og_title":null,"og_desc":null,"og_type":null,"twitter_type":null,"Title":"Senior Mechanical Engineer","Photo":"images/staff/anton-gurd.jpg","Phone Number":"(08) 7100 1122","Email Address":"97,110,116,111,110,46,103,117,114,100,64,98,114,105,103,104,116,46,99,111,109,46,97,117","LinkedIn":"https://www.linkedin.com/in/antongurd","meta_description":"","Item Description":"

As a Senior Engineer at Bright, Anton's 10 years experience in the food and beverage industries provide significant depth across multiple categories including beverages, baking, meats and snacks.  Anton also has great hands-on experience from machine building to line commissioning.\n

Anton completed a Mechanical and Manufacturing engineering degree at the University of South Australia.  He has also completed technical courses in Gas Tungsten Arc Welding and Stainless Steel properties and use.\n

He has a strong work ethic, and desire to see projects through to completion, including the practical aspects of commissioning and tuning.  His colaborative approach allows him to gather real insight from those he works with deliver the same in return through training and instruction.\n

Anton received the Dynek Prize for Robotics in 2008, and he has led multiple projects that have received internal recognition.  He regularly provides internal training and support for other engineers.

","webapp_id":"4","full_slug":"/team/anton-gurd"}]}}}}}