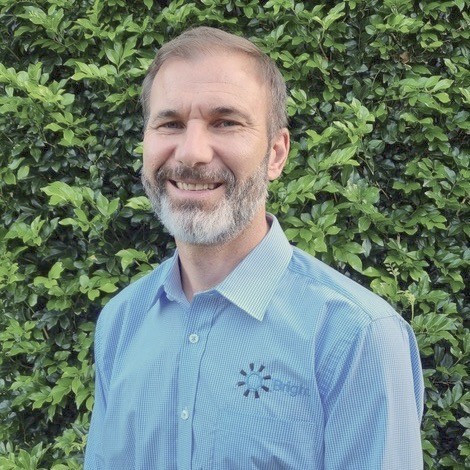 Andrew Hartley
Design and Drafting Manager
As Design and Drafting Manager at Bright, Andrew has over 30 years' experience in Engineering, Manufacturing, and Construction environments.

Projects throughout his career have included 2D and 3D drafting, as well as
 multi-disciplinary design and project management within a range of industries. These include food and beverage, pharmaceutical, aeronautical, chemical, mining, and heavy manufacturing.

Andrew has completed a full trade apprenticeship as a metal machinist and has experience working within fabrication and installation settings.

A Fellow Chartered Engineering Technologist and Engineering Executive Member of Engineers Australia, he has also obtained an HNC (Higher National Certificate) and HND (Higher National Diploma) in Mechanical Engineering and a Diploma in Project Management.

An energetic manager who understands business objectives, Andrew's exceptional 'can-do' attitude encourages his project team to work collaboratively and achieve successful outcomes.
Phone:
0452 326 223
Email:

If you need assistance in any of the areas above, please contact us now.
{"authenticity_token":"jDy+SyZoMLMRleOsyuIK+mUKv2moOhf723i7NsEwyX/DWcAlMP4g5Cm4Fxr4RZDwwDImDilfOJ3KrNHWsqWTkw==","session":{"language":"en","_csrf_token":"KHfVWLm94Q8EH6bDY0EwdprBNeRD7FeUFCwPucH3Nvs=","session_id":"32385cde3061d1f86eb3c2b5c417cacd"},"csrf_request_valid":true,"current_user":null,"headers":{"QUERY_STRING":"","REQUEST_METHOD":"GET","REQUEST_URI":"/team/andrew-hartley","HTTP_HOST":"www.bright.com.au","HTTP_USER_AGENT":"CCBot/2.0 (https://commoncrawl.org/faq/)","HTTP_ACCEPT_ENCODING":"br,gzip","HTTP_ACCEPT_LANGUAGE":"en-US,en;q=0.5","HTTP_X_AMZN_TRACE_ID":"Root=1-62f5b8c0-1733f58f3b08447d368b32f0","HTTP_X_FORWARDED_FOR":"10.120.13.2","HTTP_X_FORWARDED_HOST":"www.bright.com.au","HTTP_X_FORWARDED_PORT":"80","HTTP_X_FORWARDED_PROTO":"https","HTTP_X_FORWARDED_SERVER":"traefik-54b894f58c-cmpq6","HTTP_X_REAL_IP":"10.120.13.2","SERVER_NAME":"www.bright.com.au","SERVER_PORT":"443","PATH_INFO":"/team/andrew-hartley","skylight.request_id":"2e64a68b-09dd-40b1-8e7c-53f369d5cfd7"},"params":{"slug":"team","slug2":"andrew-hartley","format":"html"},"language":"en","environment":"production","is_xhr":false,"instance":{"id":49,"uuid":"3f730085-5509-4be7-99c9-6a716c75bb6a","name":"bright"},"location":{"url":"https://www.bright.com.au/team/andrew-hartley","href":"/team/andrew-hartley","host":"www.bright.com.au","pathname":"/team/andrew-hartley","search":{}},"page":{"id":1909,"slug":"team","enable_profiler":false,"layout":"templates/5","layout_name":"templates/5","metadata":null},"layout":{"metadata":{"id":5,"name":"Staff Template","type":"page","file_type":"template","last_edit":1645607976808,"is_default":false,"use_studio_bs5":false,"use_design_system":false}},"visitor":{"ip":"10.120.13.2"},"useragent":"CCBot/2.0 (https://commoncrawl.org/faq/)","device":{"bot":true,"bot_name":"ccBot crawler","device_brand":null,"device_name":null,"device_type":null,"full_version":null,"known":false,"name":null,"os_full_version":null,"os_name":null},"cookies":{},"version":"ef9ddd545869d1f17a64cffd600be77e2bd6a7f0-1660116858235","post_params":"","hcaptcha_site_key":"ce2a4f04-a5cf-4da6-bd8a-da2e74c8913a","modules":{"siteglide_menu":{"name":"siteglide_menu","scope_name":"siteglide_menu","version_info":{},"subscription_info":{}},"siteglide_system":{"name":"siteglide_system","scope_name":"siteglide_system","version_info":{},"subscription_info":{}},"siteglide_authors":{"name":"siteglide_authors","scope_name":"siteglide_authors","version_info":{},"subscription_info":{}},"siteglide_design_system":{"name":"siteglide_design_system","scope_name":"siteglide_design_system","version_info":{},"subscription_info":{}},"siteglide_media_downloads":{"name":"siteglide_media_downloads","scope_name":"siteglide_media_downloads","version_info":{},"subscription_info":{}},"siteglide_blog":{"name":"siteglide_blog","scope_name":"siteglide_blog","version_info":{},"subscription_info":{}}},"constants":"[FILTERED]","flash":{},"exports":{"categories":{"path":{"/home-category":"12865"},"items":{"12865":{"id":"12865","external_id":"2aae91cd-1581-4ebc-94d2-b911f25141bb","name":"Home Category","enabled":"true","parent":null,"slug":"home-category","full_slug":"/home-category","image":null,"image_alt":null,"description":null,"meta_title":null,"meta_desc":null,"og_title":null,"og_desc":null,"og_type":null,"twitter_type":null}},"data":{"12865":{"id":"12865","external_id":"2aae91cd-1581-4ebc-94d2-b911f25141bb","name":"Home Category","enabled":"true","parent":null,"slug":"home-category","full_slug":"/home-category","image":null,"image_alt":null,"description":null,"meta_title":null,"meta_desc":null,"og_title":null,"og_desc":null,"og_type":null,"twitter_type":null}}},"company_information":{"properties":{"logo":"images/logo.png","logo_white":"images/footer-logo.png","vat_number":null,"company_name":"Bright Engineering Consultants","phone_number":null,"email_address":null,"address_line_1":null,"address_line_2":null,"footer_template":"2","header_template":"1","twitter_account":null,"facebook_account":null,"linkedin_account":null,"instagram_account":null,"active_campaign_id":null,"google_analytics_id":null,"google_plus_account":null,"google_analytics_view_id":null,"google_analytics_site_verification":null}},"integrations":{"properties":{"recaptcha_site_key":"6Lfivr8UAAAAABEfXZB8ead9DZhvum9xl1kRtIWo","recaptcha_secret_key":"6Lfivr8UAAAAAJJr4_N27LTVBd-ebgv3XP03zwyU"}},"user_crm_fc":{"data":{"id":"9670","name":"user","fields":{"properties":{"address":{"name":"Address","type":"input_text","live":true,"hidden":true,"order":0,"editable":true,"required":false,"validation":{}},"company":{"name":"Company","type":"datasource_multi","live":true,"hidden":true,"order":0,"editable":true,"datasource_id":"company","required":false,"validation":{}},"starred_items":{"name":"starred_items","type":"datasource_multi","live":true,"hidden":true,"order":0,"editable":true,"datasource_id":"starred_items","required":false,"validation":{}},"tag_array":{"name":"Tags","type":"datasource_multi","live":true,"hidden":true,"order":0,"editable":true,"datasource_id":"tag","required":false,"validation":{}}}}}},"is_logged_in":{"data":false},"current_user":null,"currency_map":{"data":{"AUD":"$","CAD":"$","EUR":"€","GBP":"£","NZD":"$","USD":"$"}},"siteglide_constants_loaded":{"true":true},"category_array":{"data":[]},"properties":{"data":[{"name":"enabled","value":"true"},{"name":"release_date","range":{"lt":"1660270785"}},{"name":"expiry_date","range":{"gt":"1660270785"}},{"name":"slug","value":"andrew-hartley"}]},"properties_records":{"data":[{"name":"enabled","value":"true"},{"name":"release_date","range":{"lt":"1660270785"}},{"name":"expiry_date","range":{"gt":"1660270785"}},{"name":"slug","value":"andrew-hartley"}]},"webapp_4":{"data":{"result":{"total_entries":1,"items":[{"id":"606230","name":"Andrew Hartley","properties":{"name":"Andrew Hartley","slug":"andrew-hartley","enabled":true,"og_desc":null,"og_type":null,"og_title":null,"meta_desc":null,"weighting":null,"meta_title":null,"expiry_date":2145916800,"release_date":1644471151,"twitter_type":null,"category_array":[],"webapp_field_4_1":"Design and Drafting Manager ","webapp_field_4_2":"images/staff/Andrew Hartley 4 copy.jpeg","webapp_field_4_3":"0452 326 223","webapp_field_4_4":"97,110,100,114,101,119,46,104,97,114,116,108,101,121,64,98,114,105,103,104,116,46,99,111,109,46,97,117","webapp_field_4_5":"","webapp_field_4_6":"","webapp_field_4_7":"","webapp_field_4_8":"

As Design and Drafting Manager at Bright, Andrew has over 30 years' experience in Engineering, Manufacturing, and Construction environments.\u2028

\n

Projects throughout his career have included 2D and 3D drafting, as well as\u2028 multi-disciplinary design and project management within a range of industries. These include food and beverage, pharmaceutical, aeronautical, chemical, mining, and heavy manufacturing.\u2028 

\n

Andrew has completed a full trade apprenticeship as a metal machinist and has experience working within fabrication and installation settings.\u2028

\n

A Fellow Chartered Engineering Technologist and Engineering Executive Member of Engineers Australia, he has also obtained an HNC (Higher National Certificate) and HND (Higher National Diploma) in Mechanical Engineering and a Diploma in Project Management.\u2028

\n

An energetic manager who understands business objectives, Andrew's exceptional 'can-do' attitude encourages his project team to work collaboratively and achieve successful outcomes.

","webapp_name":"Team","webapp_slug":"team","webapp_detail":true,"webapp_detail_template":null,"webapp_detail_default_layout":"default"},"model":"webapp_4","create_date":"1644471376","last_edit_date":"1644980693","creator":null,"webapp_name":"Team","webapp_slug":"team","webapp_detail":true,"webapp_detail_template":null,"webapp_detail_default_layout":"default","slug":"andrew-hartley","weighting":null,"release_date":1644471151,"expiry_date":2145916800,"enabled":true,"category_array":[],"meta_title":"","meta_desc":null,"og_title":null,"og_desc":null,"og_type":null,"twitter_type":null,"Title":"Design and Drafting Manager ","Photo":"images/staff/Andrew Hartley 4 copy.jpeg","Phone Number":"0452 326 223","Email Address":"97,110,100,114,101,119,46,104,97,114,116,108,101,121,64,98,114,105,103,104,116,46,99,111,109,46,97,117","LinkedIn":"","meta_description":"","Item Description":"

As Design and Drafting Manager at Bright, Andrew has over 30 years' experience in Engineering, Manufacturing, and Construction environments.\u2028

\n

Projects throughout his career have included 2D and 3D drafting, as well as\u2028 multi-disciplinary design and project management within a range of industries. These include food and beverage, pharmaceutical, aeronautical, chemical, mining, and heavy manufacturing.\u2028 

\n

Andrew has completed a full trade apprenticeship as a metal machinist and has experience working within fabrication and installation settings.\u2028

\n

A Fellow Chartered Engineering Technologist and Engineering Executive Member of Engineers Australia, he has also obtained an HNC (Higher National Certificate) and HND (Higher National Diploma) in Mechanical Engineering and a Diploma in Project Management.\u2028

\n

An energetic manager who understands business objectives, Andrew's exceptional 'can-do' attitude encourages his project team to work collaboratively and achieve successful outcomes.

","webapp_id":"4","full_slug":"/team/andrew-hartley"}]}}}}}