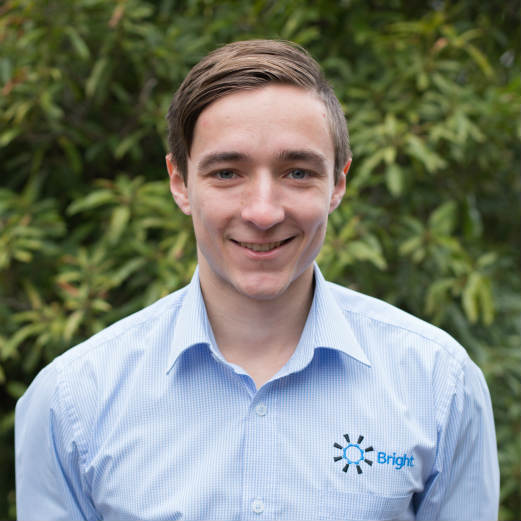 Aaron Smith
Process Engineer
Aaron is a Process Engineer at Bright Engineering Consultants and has worked across the food & beverage and pharmaceutical industry for over 3 years including hands-on production experience. Aaron has experience managing installations and contractors for multinational companies, adhering to site's specific policies and requirements regarding safety requirements. Aaron is trained in the classification of hazardous areas and is an associate member of the Australian Institute of Dangerous Goods Consultants.
His knowledge of dangerous goods and hazardous areas has been utilised for multiple projects, including companies who were looking at hand sanitiser production during the peak of the COVID-19 pandemic. Aaron has experience working on process design for multiple projects, as well as project scoping including project cost estimations.
Aaron holds a Chemical engineering degree with honours, and is also an associate member of the Institute of Chemical Engineers.
He has a good work ethic and communication skills, and enjoys working with clients to achieve their goals efficiently.
He's currently working on multiple client's sites, completing design and project management works.
Phone:
(08) 7100 1122
Email:

If you need assistance in any of the areas above, please contact us now.
{"authenticity_token":"jWqq5ublGGiT/2fT6tv9D12cIVGdN0ozKJBFoAA61Lov7/mW4FcXxhd69vxYko7CKDuW7HrxnTw7zdqgidJCaA==","session":{"language":"en","_csrf_token":"KArFhfdIoZey6w9rTkXb/or1SeP8WNNHTz1siH+iR6c=","session_id":"8459ccc9bdbd4ee554c94d51742bc50d"},"csrf_request_valid":true,"current_user":null,"headers":{"QUERY_STRING":"","REQUEST_METHOD":"GET","REQUEST_URI":"/team/aaron-smith","HTTP_HOST":"www.bright.com.au","HTTP_USER_AGENT":"CCBot/2.0 (https://commoncrawl.org/faq/)","HTTP_ACCEPT_ENCODING":"br,gzip","HTTP_ACCEPT_LANGUAGE":"en-US,en;q=0.5","HTTP_IF_MODIFIED_SINCE":"Sun, 05 Dec 2021 17:59:35 GMT","HTTP_X_AMZN_TRACE_ID":"Root=1-62f5cce9-32466bb5082514a968a9612d","HTTP_X_FORWARDED_FOR":"10.120.3.65","HTTP_X_FORWARDED_HOST":"www.bright.com.au","HTTP_X_FORWARDED_PORT":"80","HTTP_X_FORWARDED_PROTO":"https","HTTP_X_FORWARDED_SERVER":"traefik-54b894f58c-cmpq6","HTTP_X_REAL_IP":"10.120.3.65","SERVER_NAME":"www.bright.com.au","SERVER_PORT":"443","PATH_INFO":"/team/aaron-smith","skylight.request_id":"c6691bda-725d-4fc9-a42e-ec4fabbb3d3f"},"params":{"slug":"team","slug2":"aaron-smith","format":"html"},"language":"en","environment":"production","is_xhr":false,"instance":{"id":49,"uuid":"3f730085-5509-4be7-99c9-6a716c75bb6a","name":"bright"},"location":{"url":"https://www.bright.com.au/team/aaron-smith","href":"/team/aaron-smith","host":"www.bright.com.au","pathname":"/team/aaron-smith","search":{}},"page":{"id":1909,"slug":"team","enable_profiler":false,"layout":"templates/5","layout_name":"templates/5","metadata":null},"layout":{"metadata":{"id":5,"name":"Staff Template","type":"page","file_type":"template","last_edit":1645607976808,"is_default":false,"use_studio_bs5":false,"use_design_system":false}},"visitor":{"ip":"10.120.3.65"},"useragent":"CCBot/2.0 (https://commoncrawl.org/faq/)","device":{"bot":true,"bot_name":"ccBot crawler","device_brand":null,"device_name":null,"device_type":null,"full_version":null,"known":false,"name":null,"os_full_version":null,"os_name":null},"cookies":{},"version":"ef9ddd545869d1f17a64cffd600be77e2bd6a7f0-1660116858235","post_params":"","hcaptcha_site_key":"ce2a4f04-a5cf-4da6-bd8a-da2e74c8913a","modules":{"siteglide_menu":{"name":"siteglide_menu","scope_name":"siteglide_menu","version_info":{},"subscription_info":{}},"siteglide_system":{"name":"siteglide_system","scope_name":"siteglide_system","version_info":{},"subscription_info":{}},"siteglide_authors":{"name":"siteglide_authors","scope_name":"siteglide_authors","version_info":{},"subscription_info":{}},"siteglide_design_system":{"name":"siteglide_design_system","scope_name":"siteglide_design_system","version_info":{},"subscription_info":{}},"siteglide_media_downloads":{"name":"siteglide_media_downloads","scope_name":"siteglide_media_downloads","version_info":{},"subscription_info":{}},"siteglide_blog":{"name":"siteglide_blog","scope_name":"siteglide_blog","version_info":{},"subscription_info":{}}},"constants":"[FILTERED]","flash":{},"exports":{"categories":{"path":{"/home-category":"12865"},"items":{"12865":{"id":"12865","external_id":"2aae91cd-1581-4ebc-94d2-b911f25141bb","name":"Home Category","enabled":"true","parent":null,"slug":"home-category","full_slug":"/home-category","image":null,"image_alt":null,"description":null,"meta_title":null,"meta_desc":null,"og_title":null,"og_desc":null,"og_type":null,"twitter_type":null}},"data":{"12865":{"id":"12865","external_id":"2aae91cd-1581-4ebc-94d2-b911f25141bb","name":"Home Category","enabled":"true","parent":null,"slug":"home-category","full_slug":"/home-category","image":null,"image_alt":null,"description":null,"meta_title":null,"meta_desc":null,"og_title":null,"og_desc":null,"og_type":null,"twitter_type":null}}},"company_information":{"properties":{"logo":"images/logo.png","logo_white":"images/footer-logo.png","vat_number":null,"company_name":"Bright Engineering Consultants","phone_number":null,"email_address":null,"address_line_1":null,"address_line_2":null,"footer_template":"2","header_template":"1","twitter_account":null,"facebook_account":null,"linkedin_account":null,"instagram_account":null,"active_campaign_id":null,"google_analytics_id":null,"google_plus_account":null,"google_analytics_view_id":null,"google_analytics_site_verification":null}},"integrations":{"properties":{"recaptcha_site_key":"6Lfivr8UAAAAABEfXZB8ead9DZhvum9xl1kRtIWo","recaptcha_secret_key":"6Lfivr8UAAAAAJJr4_N27LTVBd-ebgv3XP03zwyU"}},"user_crm_fc":{"data":{"id":"9670","name":"user","fields":{"properties":{"address":{"name":"Address","type":"input_text","live":true,"hidden":true,"order":0,"editable":true,"required":false,"validation":{}},"company":{"name":"Company","type":"datasource_multi","live":true,"hidden":true,"order":0,"editable":true,"datasource_id":"company","required":false,"validation":{}},"starred_items":{"name":"starred_items","type":"datasource_multi","live":true,"hidden":true,"order":0,"editable":true,"datasource_id":"starred_items","required":false,"validation":{}},"tag_array":{"name":"Tags","type":"datasource_multi","live":true,"hidden":true,"order":0,"editable":true,"datasource_id":"tag","required":false,"validation":{}}}}}},"is_logged_in":{"data":false},"current_user":null,"currency_map":{"data":{"AUD":"$","CAD":"$","EUR":"€","GBP":"£","NZD":"$","USD":"$"}},"siteglide_constants_loaded":{"true":true},"category_array":{"data":[]},"properties":{"data":[{"name":"enabled","value":"true"},{"name":"release_date","range":{"lt":"1660275946"}},{"name":"expiry_date","range":{"gt":"1660275946"}},{"name":"slug","value":"aaron-smith"}]},"properties_records":{"data":[{"name":"enabled","value":"true"},{"name":"release_date","range":{"lt":"1660275946"}},{"name":"expiry_date","range":{"gt":"1660275946"}},{"name":"slug","value":"aaron-smith"}]},"webapp_4":{"data":{"result":{"total_entries":1,"items":[{"id":"12846","name":"Aaron Smith","properties":{"name":"Aaron Smith","slug":"aaron-smith","enabled":true,"og_desc":null,"og_type":null,"og_title":null,"meta_desc":null,"weighting":1000,"meta_title":"Aaron Smith","expiry_date":2145916800,"release_date":1526515200,"twitter_type":null,"category_array":[],"webapp_field_4_1":"Process Engineer","webapp_field_4_2":"images/staff/Aaron-Smith.jpg","webapp_field_4_3":"(08) 7100 1122","webapp_field_4_4":"97,97,114,111,110,46,115,109,105,116,104,64,98,114,105,103,104,116,46,99,111,109,46,97,117","webapp_field_4_5":"https://au.linkedin.com/in/aaron-smith-99bb68161?trk=public_profile_browsemap","webapp_field_4_6":"Aaron Smith","webapp_field_4_7":"","webapp_field_4_8":"

Aaron is a Process Engineer at Bright Engineering Consultants and has worked across the food & beverage and pharmaceutical industry for over 3 years including hands-on production experience. Aaron has experience managing installations and contractors for multinational companies, adhering to site's specific policies and requirements regarding safety requirements. Aaron is trained in the classification of hazardous areas and is an associate member of the Australian Institute of Dangerous Goods Consultants. 

\n

His knowledge of dangerous goods and hazardous areas has been utilised for multiple projects, including companies who were looking at hand sanitiser production during the peak of the COVID-19 pandemic. Aaron has experience working on process design for multiple projects, as well as project scoping including project cost estimations. 

\n

Aaron holds a Chemical engineering degree with honours, and is also an associate member of the Institute of Chemical Engineers.   

\n

He has a good work ethic and communication skills, and enjoys working with clients to achieve their goals efficiently. 

\n

He's currently working on multiple client's sites, completing design and project management works.

","webapp_name":"Team","webapp_slug":"team","webapp_detail":true,"webapp_detail_template":null,"webapp_detail_default_layout":"default"},"model":"webapp_4","create_date":"1572354381","last_edit_date":"1646876335","creator":null,"webapp_name":"Team","webapp_slug":"team","webapp_detail":true,"webapp_detail_template":null,"webapp_detail_default_layout":"default","slug":"aaron-smith","weighting":1000,"release_date":1526515200,"expiry_date":2145916800,"enabled":true,"category_array":[],"meta_title":"Aaron Smith","meta_desc":null,"og_title":null,"og_desc":null,"og_type":null,"twitter_type":null,"Title":"Process Engineer","Photo":"images/staff/Aaron-Smith.jpg","Phone Number":"(08) 7100 1122","Email Address":"97,97,114,111,110,46,115,109,105,116,104,64,98,114,105,103,104,116,46,99,111,109,46,97,117","LinkedIn":"https://au.linkedin.com/in/aaron-smith-99bb68161?trk=public_profile_browsemap","meta_description":"","Item Description":"

Aaron is a Process Engineer at Bright Engineering Consultants and has worked across the food & beverage and pharmaceutical industry for over 3 years including hands-on production experience. Aaron has experience managing installations and contractors for multinational companies, adhering to site's specific policies and requirements regarding safety requirements. Aaron is trained in the classification of hazardous areas and is an associate member of the Australian Institute of Dangerous Goods Consultants. 

\n

His knowledge of dangerous goods and hazardous areas has been utilised for multiple projects, including companies who were looking at hand sanitiser production during the peak of the COVID-19 pandemic. Aaron has experience working on process design for multiple projects, as well as project scoping including project cost estimations. 

\n

Aaron holds a Chemical engineering degree with honours, and is also an associate member of the Institute of Chemical Engineers.   

\n

He has a good work ethic and communication skills, and enjoys working with clients to achieve their goals efficiently. 

\n

He's currently working on multiple client's sites, completing design and project management works.

","webapp_id":"4","full_slug":"/team/aaron-smith"}]}}}}}